Evolving Technology to Empower Digital Media
The MediaAlpha Exchange Platform is the world's first programmatic platform for buying and selling vertical search media. With MediaAlpha, advertisers and publishers are now in full control of their media like never before.
The MediaAlpha Exchange Platform
MediaAlpha empowers digital media buyers and sellers to connect with greater precision and efficiency. Our proprietary exchange technology for vertical search puts full control into the hands of Advertisers and Publishers alike to manage and execute exactly how they want.
Move into the modern world with advanced technology tools purpose-built for vertical search media.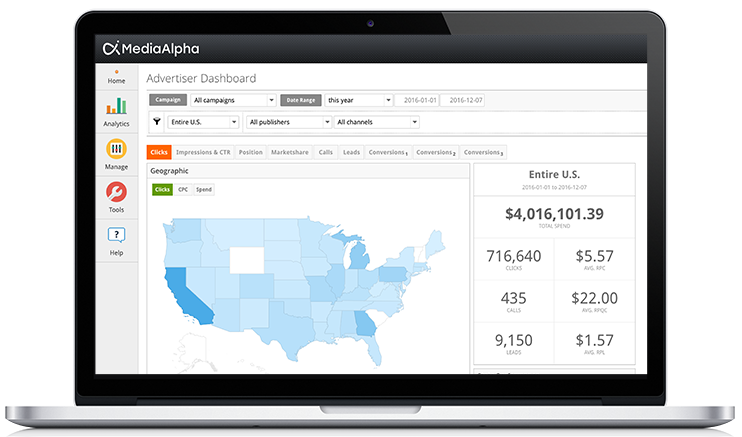 Giving Control to Buyers and Sellers
We built the MediaAlpha Exchange Platform with one goal in mind – to give Advertisers and
Publishers full control over how they buy and sell vertical media.

Programmatic
The only real-time, programmatic technology platform for vertical search

Transparent
Full transparency across all supply and demand sources

Integrated
Manage all vertical search media in one place

Open Platform

Easy integrate first and third party data sources


Flexible
Multiple deployment options to transact with any buyer or seller


Scalable
Robust, secure and highly scalable

MediaAlpha
For Advertisers
The leading real-time buying platform to manage and optimize vertical search media to improve buying efficiency and deliver better overall campaign performance.
Media Alpha for
Publishers
Take control over how you manage and monetize your vertical search media inventory to improve yield and maximize total revenue.
Vertical Search
We focus exclusively on vertical search, developing new solutions that are specifically designed for this sector of media. Capitalizing on the richness of data and high intent nature of the consumers.
Innovation
We made it our mission to bring technology-driven innovation to Vertical Search.