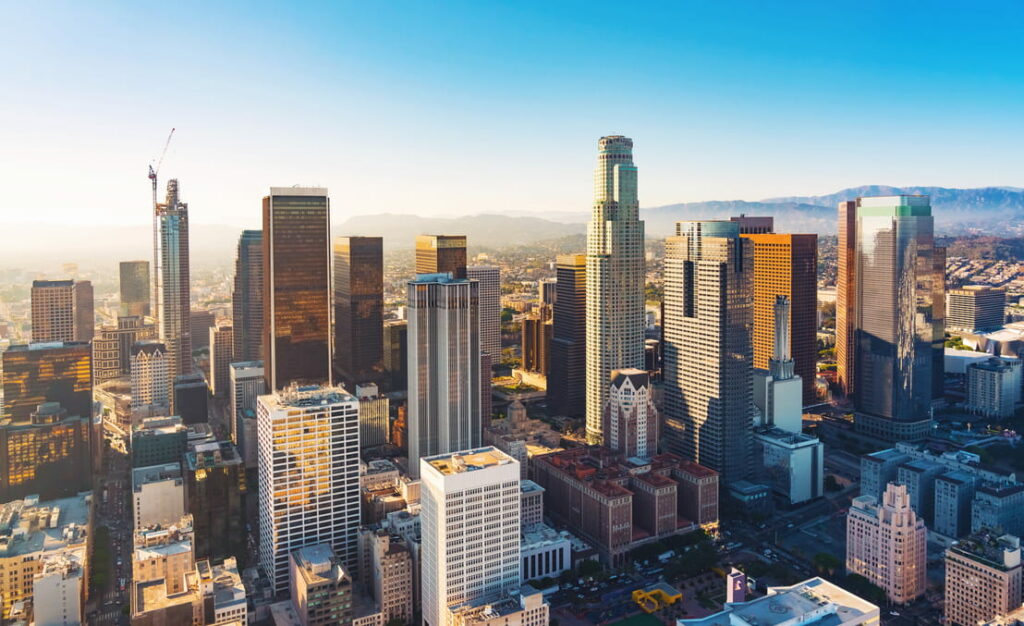 Many insurance agents shy away from buying online leads in metropolitan areas, choosing instead to focus on shoppers in rural and suburban locations. But while each agent has their own reasons for not buying leads in cities, many agents have misconceptions about lead buying and customer acquisition in urban areas.
For instance, some agents believe that because cities are so densely populated, they'll be competing against too many other agencies to convert a significant portion of their leads into new policy sales. Others worry that with so many customers shopping for insurance in urban areas, opening their targeting settings to include cities will cause them to buy more leads than they have the capacity to work. As we'll explain shortly, both of these concerns can be easily assuaged with a smart lead-buying strategy.
Contrary to what some agents might think, buying leads in metro areas can deliver a strong return on investment alongside the scale you need to grow your business—you just have to do things right. Here are four things every insurance agent should know about buying leads in metro areas.
1. You won't know where you're competitive until you experiment and find the right consumer segments
As noted earlier, many agents worry that the competition in cities is simply too great for them to succeed. With so many agencies competing for these urban shoppers, agents worry that any lead they contact will already have been quoted by a number of rival agents looking to earn their business.
But there's no way to actually know how competitive you'll be with a given segment of consumers until you try to sell to them. After all, city drivers need to buy insurance from somewhere, and with the right lead-buying strategy, it very well could be you. It's all about finding the right shoppers for your business.
Our platform allows you to hone in on common consumer segments, such as premium, preferred, standard, and non-standard. In addition, we offer custom targeting controls that enable you to filter and adjust your bids based on a range of variables, including zip code, age, driving history, and coverage history. You can even use our browse-and-buy feature to select the exact lead you'd like to purchase from a real-time feed of fresh leads.
This means you can experiment with different neighborhoods and consumer segments until you find the ones that work best for you. If you want advice on how to target and bid most effectively, your dedicated MediaAlpha client success manager will be more than happy to offer guidance.
2. If you want to scale, you can't afford to leave metro areas out of your lead buying
Ultimately, there's a limit to how much you can grow your business if you're not buying leads in metro areas. According to the Pew Research Center, more than 30% of U.S. residents live in urban areas. If you're avoiding these shoppers entirely, you're going to be missing out on a huge portion of the population that you need to grow your business.
If you're worried about how your products will sell in certain parts of your nearest metro area, you can always filter by zip code to avoid them and focus your lead buying on the places where you're strongest. You might find that certain pockets of the city are even more profitable for you than the suburban and rural areas where you're selling.
3. You can use lead caps to avoid buying more leads than you have capacity to work
One other big concern for agents is that opening their targeting to include urban areas will cause them to purchase a flood of new leads they either can't afford or don't have the capacity to work. After all, they reason, there are lots of consumers in urban areas, and if you're bidding on large segments of them, you're going to wind up winning lots of leads at auction—perhaps more than your team can handle.
In order to avoid this, you can use the lead cap settings in our platform to specify the maximum number of leads you buy in a given day or week. You can also use our scheduling tools to specify when you'll be bidding on leads, to ensure that you're only bidding at the times you want and when your producers are available to contact consumers. Meanwhile, our browse-and-buy feature enables you to buy individual leads on demand—allowing you to buy the exact number of leads you want, right when you want them.
4. Multilingual producers can give you a major advantage in urban markets
Language barriers can limit agents' success in urban areas, and they're one of the reasons some insurance agencies avoid buying leads in cities. However, if you have multilingual producers on your team, you can not only overcome these hurdles, but also give yourself a huge leg up on the competition.
Because you can target consumers by zip code, you'll be able to set up your producers for success by matching the people on your team who speak multiple languages with the parts of the city where those languages are commonly spoken.
Want more help buying leads and acquiring customers in urban areas? Our team is here to support you.
Despite what some might believe, urban markets offer a huge opportunity to grow your insurance agency business with efficiency and scale. By targeting the right shoppers in metro areas, implementing the right lead-buying tactics, and setting yourself up for success with multilingual producers, you can turn city drivers into some of your best customers.
If you have any questions about how to target, bid on, or work leads most effectively, our Agent's Guide to Online Leads is a great place to start. And if you have any additional things you'd like to ask, you can always reach out to your client success manager for more guidance. Finally, if you're not yet a MediaAlpha for Agents client, you can schedule a meeting on our website to learn more about how we can help you grow your business.