For insurance publishers, there's a lot that goes into building a growing business. In order to scale, you need a great user experience, a thoughtful, data-driven traffic acquisition strategy, and a website that helps consumers find the policy they're looking for.
But what's not to be overlooked is the role that the right monetization partner can play in helping you take your business to the next level. Indeed, without quality demand, great technology, and forward-thinking customer service, it can be very difficult—if not impossible—to scale quickly.
We should know. Already, 21 of our insurance publisher partners have grown to earn more than $1 million in monthly revenue on our platform—more than any other monetization partner in the industry. And we're only just getting started.
Here are four things insurance publishers need from their monetization partners to scale their advertising revenue.
1. A large pool of demand
There is simply no way to scale your publisher business without a deep pool of advertiser demand. After all, if you don't have access to advertiser budgets, you don't have much of anything.
At MediaAlpha, we're proud to be home to more demand than anyone else in our space, with more than $150 million in quarterly spend from insurance advertisers. When our publisher partners grow their monthly traffic, our advertisers have the budget available to purchase the additional inventory.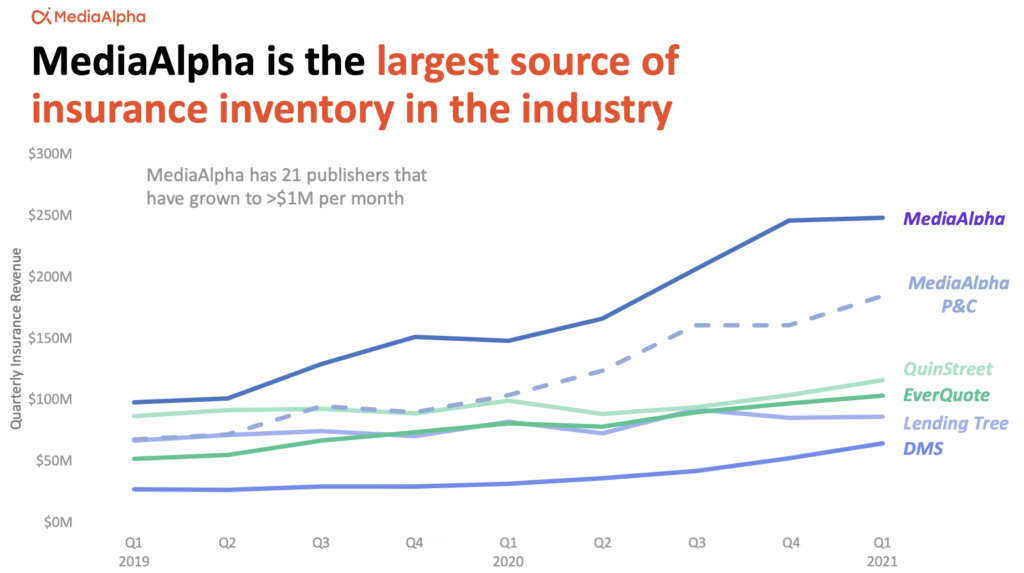 2. Technology that drives results for your advertising partners
Advertisers spend more money with publishers when they're getting the results they need, and the right platform technology is a big piece of the puzzle.
In order for insurance brands to maximize their performance, they need deep transparency into their performance, as well as the ability to bid granularly on different demographic audiences and traffic sources. They also benefit greatly from platform integrations that improve the user experience and drive conversions.
That's why we give our advertisers more granular performance data than anyone else, allowing them to optimize their bidding to best meet their business goals. Meanwhile, our suite of platform integrations—from conversion tracking to data passing—offers advertisers the ability to improve their performance further. All told, we help advertisers achieve their best possible results, and they've responded by spending an increasingly large share of their budgets with the publishers on our platform.
3. A generous revenue share that spurs investment
One big difference between monetization platforms is the share of advertising revenue that gets passed on to publishers. A greater revenue share doesn't just build your bottom line, it also gives you more money to invest in growing your business via additional traffic acquisition.
Because we have the industry's best operating leverage—that is, we generate a far greater transaction value per employee than anyone else in our space—we're able to offer our publisher partners the best revenue share and fee structure. This gives our publishers more of every dollar they earn in ad revenue, empowering them to spend larger budgets on bringing in new site visitors and generating additional revenue.
4. A consultative partner with industry and technical expertise
When considering a monetization partner, it's important to remember that you're not just paying for technology or access to advertiser demand—you're also selecting the customer service team you'll be working closely with to grow your business.
Does your monetization partner provide insight and expertise into your specific industry? Do they have the technical chops to create custom integrations that can help you solve the challenges facing your company?
Our client success managers take a consultative approach with our publisher partners, using the insights we glean as the insurance industry's largest customer acquisition platform to keep you up to speed on all the latest industry trends. We're always happy to help you identify your most profitable traffic sources and consumer types, or to put together a new platform integration that moves your business forward. We're focused on building successful, long-term relationships with all of our partners—because we know that when you grow, we grow, too.
Growing publishers are growing with MediaAlpha
From the technology, to the customer service, to the demand that lives on the platform, the right monetization partner is an absolute must for insurance publishers planning to quickly grow their businesses.
And right now, the industry's fastest-growing publishers are reaching new heights on the MediaAlpha platform. With the largest pool of insurance advertising demand, first-rate customer service, and the most transparent marketplace in the industry, we're giving our partners everything they need to grow their monetization.
Want to learn more about how we can help you crush your monetization goals? Set up a meeting with your client success manager today. Or, if you're not already a MediaAlpha partner, schedule a demo with us on our website.