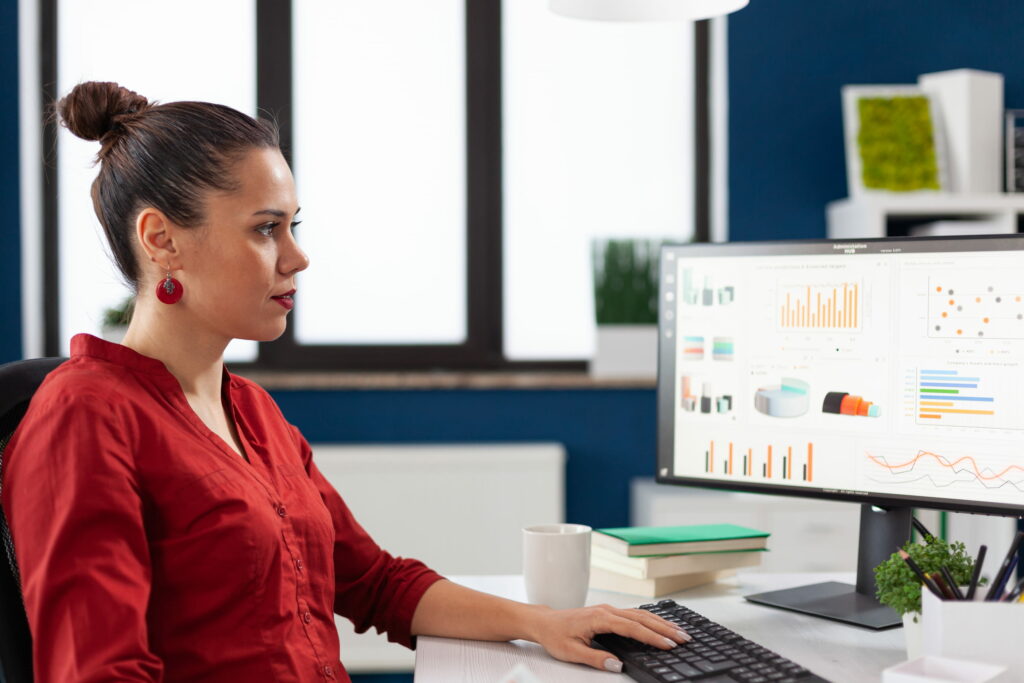 For insurance agents, transparency is a crucial aspect of any good online leads solution. After all, if you don't know exactly what you're buying, it's hard to know how you can tweak your buying strategy for better performance. Yet despite how important transparency is to successful digital insurance customer acquisition, many agents still aren't getting the insight they need from their lead-buying partners.
Increasingly, agents are turning to the MediaAlpha for Agents platform, which offers more transparency and control over insurance lead-buying than any other solution. With several unique features and top-flight customer service, our platform enables you to pinpoint the exact consumers you're hoping to reach, with full transparency into how much you pay for each lead.
Here are four ways agents are using our platform's industry-leading transparency to acquire new customers with efficiency and scale:
1. Bidding on custom consumer groups through our automated delivery auctions
MediaAlpha for Agents offers agents two ways to buy leads: automated delivery auctions and browse-and-buy. When using our automated delivery option, agents choose how many leads they want to buy and set bids for pre-selected (e.g. "standard," "preferred," "non-standard") and custom audience groups. Then, leads are distributed to the agents who win the auctions as they're generated. We'll talk more about browse-and-buy in a moment.
Agents are using the transparency available in the automated delivery option to hone in on the precise consumer groups that are the best fit for their businesses. By adjusting the filters for age, currently insured status, and driving history, you can decide exactly which consumers you want to contact and how much you want to pay for the privilege of reaching out to them.
Here's what it looks like: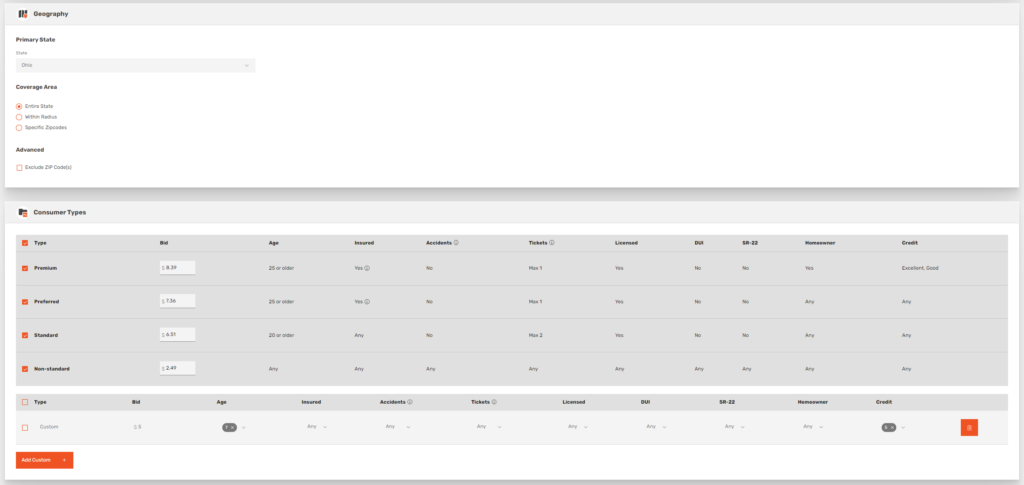 2. Buying the exact leads they want à la carte via browse-and-buy
Browse-and-buy is a first-of-its-kind lead-buying option that enables our agent partners to select the exact leads they want to purchase from a continuously updated list of recently generated leads.
When you click on the lead details page of a lead in the browse-and-buy feed, you get unprecedented transparency into the shopper associated with the lead. This includes their homeowner status, currently insured status, zip code, marital status, vehicles owned, driving record, and more.
Here's what it looks like: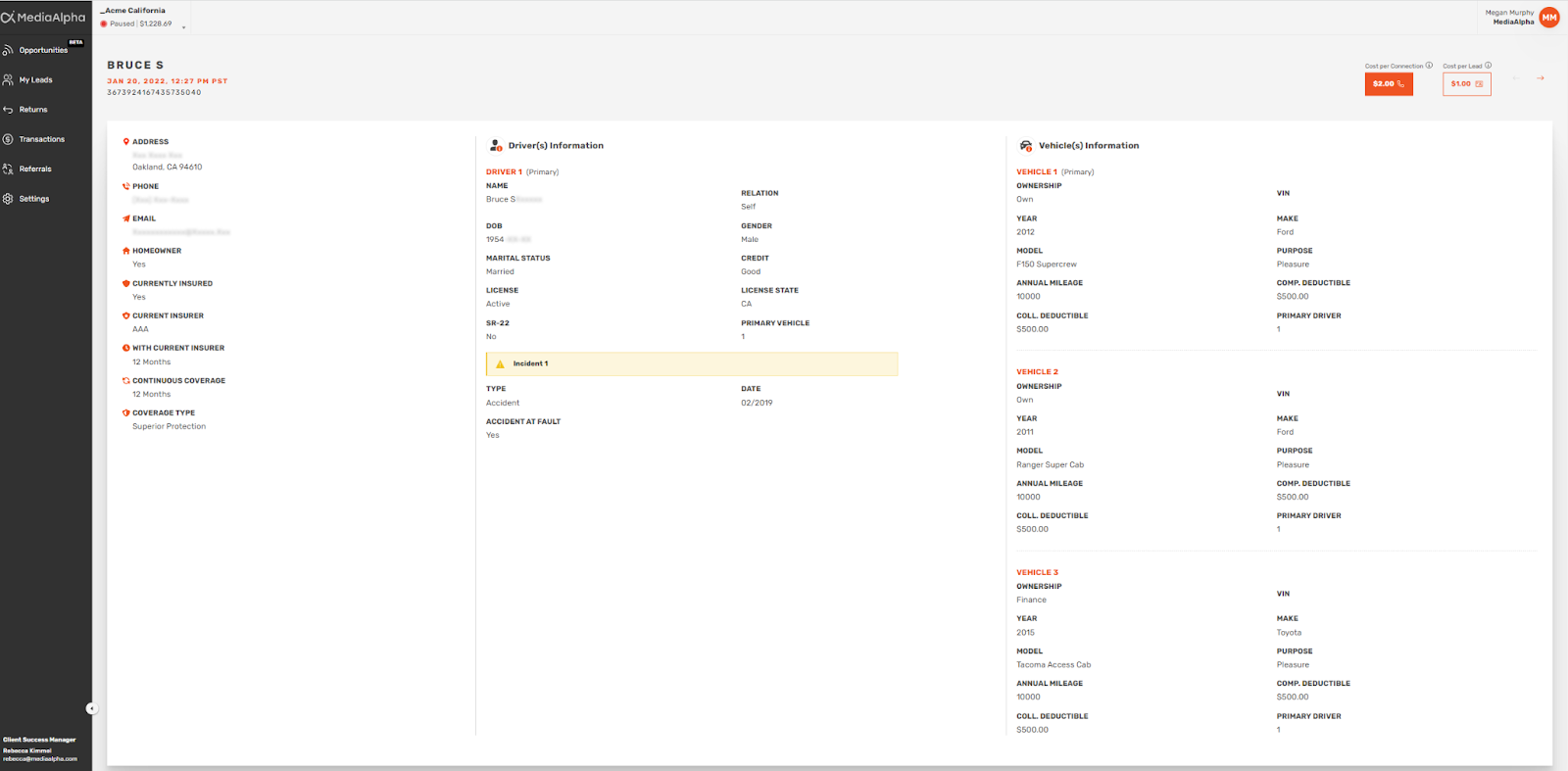 Our agent partners are using the transparency provided by this feature to reach the precise shoppers that will bolster their business—a big help at a time when carriers have become less competitive in certain markets due to the hard market. As independent agent William Orr puts it, "With browse-and-buy, you can be pickier about what you want."
3. Making strategic buying decisions based on which other carriers have access to a lead
Leads are typically sold to multiple agents, which means it's useful to know who else you're competing against to reach each shopper. The browse-and-buy feature is the only place in all of online insurance lead-buying where you can see other carriers whose representatives have purchased access to a lead—before you decide whether to buy it.
Our agent partners are using this transparency to make smarter decisions about which consumers they try to reach and how they communicate with them. For instance, let's say you know that you're able to offer a certain kind of shopper a better deal than one of your competitors. In this case, you might decide to purchase the lead, formulate a quote that gives them superior coverage or a more affordable price, and then tailor your pitch to highlight how your offer is better than the competitor's. Conversely, if you know you're not going to be able to offer a shopper a competitive rate, you can choose to save your money and look for your next policy sale elsewhere.
4. Working with honest, transparent client success representatives to maximize performance
Each one of our agent partners is assigned a client success manager they can turn to for honest, straightforward advice about how they can improve their lead-buying performance. By pointing out different consumer groups that might perform for you and offering counsel on how to adjust your bidding for best results, our team gives you the hands-on help you need to optimize your lead-buying performance.
As independent agent Eric Hardiman explains, "I've never received attention like I have from MediaAlpha's client success team. They want me to be successful, and that partnership is really important."
Want more help growing your business with MediaAlpha's highly transparent lead-buying platform? We'd love to talk.
These are just a few of the ways that MediaAlpha for Agents is helping property and casualty insurance agents acquire new customers at scale—with greater transparency and efficiency than any other solution.
If you'd like to learn more about how you can get more out of your lead-buying, simply schedule a meeting with your client success manager. And if you're not yet a MediaAlpha for Agents partner, you can always set up a time to learn more about what we offer on our website.