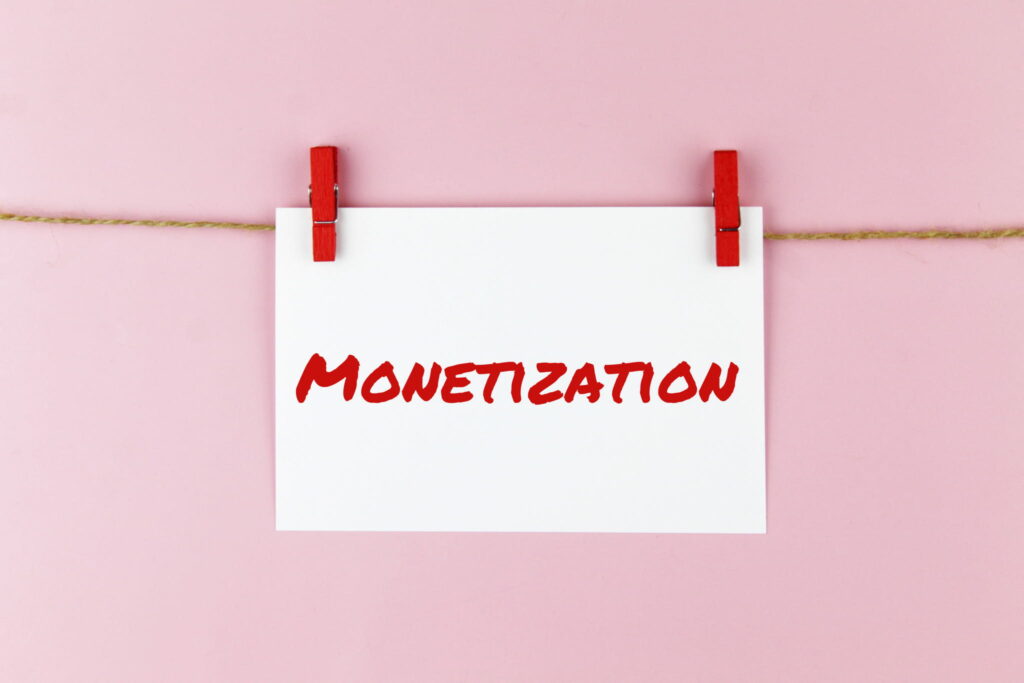 For personal finance apps, growing your business requires a delicate balance between presenting the best user experience and maximizing your advertising revenue.
If you focus solely on creating the perfect user experience, you might shy away from the high-visibility ad placements you need to grow your ad revenues. But if you overwhelm your audience with intrusive or irrelevant ad messaging, you might see a short-term revenue boost at the expense of a dwindling user base. And if you're a paid app that relies on subscriptions to fuel your bottom line, the stakes of this balancing act are even higher.
Here are three things you need to get right in order to maximize your auto insurance ad revenues and optimize the user experience.
1. Relevant, seamless insurance offers based on the consumer's actual financial situation
Above all else, it's important to make sure you're delivering real value to your users. As we've written in the past, auto insurance offers are a great way to help your cost-conscious audience save money. This is especially true during a recession, when other kinds of financial advertisers typically have less budget to invest in digital media. However, it's important to make sure that each auto insurance offer you show is relevant to the consumer who receives it.
For instance, you can combine what you know about the consumer with publicly available insurance rate information to deliver a potent message that speaks directly to the user's actual financial situation. Let's say you're a budgeting app and you know that a user is a homeowner who pays their auto insurance carrier $200 each month. If you know that other carriers are offering policies to similar consumers for $152 a month, you can show a native advertising message that tells the consumer they can save $48 a month by changing carriers.
Here's what this can look like: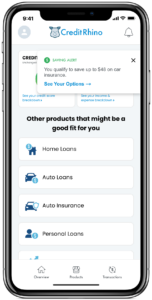 Another useful method of helping the consumer save is to ask them to connect their existing auto insurance policy to your app. Then, you can work with your monetization partner to show offers for carriers that can provide similar coverage at a cheaper cost.
2. Direct access to advertiser demand from top auto insurance carriers
If you want to maximize your advertising revenue, you'll naturally want access to advertiser demand from as many top carriers as you can get. But it's just as important to think about how much of each advertiser bid you get to keep.
To this end, you'll want to know whether your monetization partner sources demand from advertisers directly, or whether they get it from a third-party exchange partner. If they have to source demand from an outside exchange, they'll first have to pay that exchange a fee before they can pass along your share of the advertiser's bid. When your monetization partner sources inventory from carriers directly, you cut out the middleman and get a larger share of each ad dollar.
3. The optimal mix of rated ads and click ads
When you're thinking about the balance between maximizing monetization and optimizing the user experience, it's important to make sure you have the right mix of the two kinds of auto insurance ads: rated ads and click ads.
When you show a rated ad listing, a carrier provides a provisional monthly premium that gives the consumer an idea of what they can expect to pay before they decide whether to click a link to the carrier's website. By contrast, a click ad listing merely shows the name of a carrier the consumer can visit to receive a quote.
Here's a comparison shopping experience that shows both click ad listings and rated ad listings: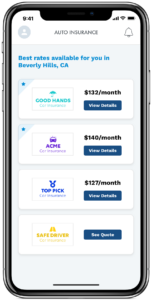 Crucially, consumers prefer to see at least one or two rated ads—these listings create a true comparison shopping experience that enables the consumer to see how much they can expect to save. However, click ads monetize better and generate more revenue for personal finance app publishers. Generally speaking, you can expect to earn about 35% more from each click ad than you do from a rated ad.
This is because rated ads are paid for by online insurance agencies, who earn a small percentage of each policy sale in the form of a commission. Because click ads are placed by carriers who are selling the policy to the consumer directly, carriers can afford to pay more for them.
The upshot? You need a comparison shopping experience that provides the perfect mix of click ads and rated ads. This way, you can maximize your ad revenues with click listings while serving your users the rated ads they desire. The right monetization partner can provide an algorithm for ensuring the mix that best positions you for long-term growth.
Want to know more about growing your business with auto insurance ads? Let's talk.
For personal finance apps, successful monetization relies on ad experiences that return an excellent yield while satisfying the end user. By delivering relevant insurance offers, gaining direct access to carrier demand, and showing the optimal mix of click and rated ads, you'll be able to delight your users while earning the greatest possible revenue from each comparison shopping experience.
Of course, all this requires you to have a monetization partner that's up to the task of helping you achieve this balance. At MediaAlpha, we're proud to offer an excellent user experience, the industry's best monetization engine, and direct access to the world's largest pool of auto insurance advertising demand. All this, plus a hands-on team of insurance advertising experts and data scientists who are ready to help you every step of the way.
Ready to learn more about how we can help you supercharge your auto insurance advertising revenues? Schedule a meeting with us on our website.