Keyword search is all around us. It is the norm for consumers to reference Google or Bing whenever they are looking to discover information and make decisions. It's universal and has been the industry standard for decades.
When consumers search and visit websites, their online behavior allows marketers to use browser history, purchase history and other recent activity to target them with relevant advertising – all with the hope it will translate into clicks and conversions, or at the very least increased brand awareness.
Sounds good, right? But consider the downside – a majority of those advertising dollars are being used on display ads. Display advertising is riddled with questionable activity, generates one of the lowest click-through rates in digital media and affects user experience negatively.
Consumers continue to express their annoyance at the distraction and inconvenience of display ads, resulting in viewer fatigue or banner blindness.
They simply ignore or block the ads completely – 615 million devices have ad blockers installed – for a more enhanced user experience.
Despite the drawbacks of this format, both publishers and advertisers rely heavily on display, with $48 billion being allocated to display ads in 2018 alone, with 86% being bought and sold programmatically by 2020.
Rethinking strategy
Companies that solely utilize display advertising for performance marketing need to complement this strategy with native comparison search ads, a functionality inside the different platforms or websites.
Especially if they are offering a product or service in a high consideration category where the consumer is likely to compare multiple options before purchasing, such as travel.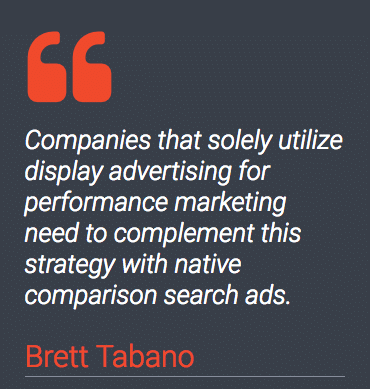 Native comparison search, a form of performance marketing, is becoming an increasingly popular high-ROI strategy for brands and their digital marketing campaigns because of its specialized nature and because it can be traded programmatically.
It differs from traditional search in that it is specific to one particular product or service category and is native to that particular website – in this instance travel.
Through this type of programmatic advertising, travel brands have the means to expand their ad revenue stream by surfacing additional offers outside of their own, via a cost-per-click ad model.
It may sound counterintuitive to showcase your competitors, but there are a number of use cases where you can test the waters to prove that this model works.
For example, you are a hotel site, and the consumer's desired dates are sold out. Instead of sending the user to a competitor's site to conduct another search, you can surface additional hotel offers and generate revenue when the consumer clicks through to book.
Or, you're an airline, and the flight is sold out – the same concept can be applied.
Taking it a step further, if a consumer is searching for dates to stay at your hotel, why not showcase airfare options in the form of comparison ads?
Or, if a consumer is searching and has a low likelihood of purchasing, why not showcase other hotel options, allowing you to capture a portion of the revenue versus nothing?
These are all scenarios in which you should leverage native comparison search to increase yield.
The benefits
Kayak is a great example of a brand embracing programmatic technology for their performance marketing efforts and moving away from the traditional ad network model.
The company asked us to power its performance marketing campaign for native search and reached 120% ROI while capturing the attention – and disposable income – of travelers across the globe.
Programmatic performance marketing is beneficial to advertisers, publishers and consumers.
It provides transparency, real-time measurement, efficiency, targeting, increased reach and the ability to track return on advertising spend.
Taking that into account, consider the following three reasons that every travel brand should invest in native comparison search: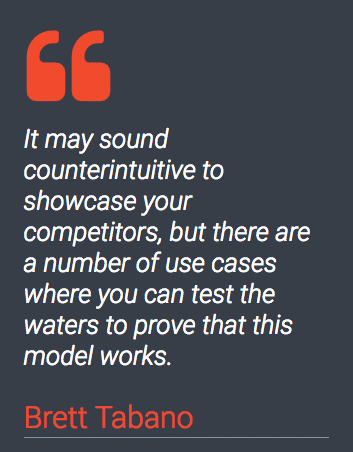 Display ads are riddled with nefarious activity and generate one of the lowest click-through rates in digital media. Unfortunately, a good percentage of display ads have been overtaken by fraudsters. The most common type of ad fraud is "bots," computer programs that mimic the clicks and viewability consumers make to give the impression that a person is visiting a website that then lures advertisers.
On top of "bots" and other forms of questionable activity, click-through rates are just 0.05%. I am not implying the answer is to remove display from the equation – my point is to highlight an alternative option for both publishers and advertisers to lessen their dependence on display while keeping user experience at the forefront. Especially if you are using display to drive clicks.
Enhance the user experience. Consumers are searching and comparing more today than in the past, and this trend is only going to increase while search and content consumption patterns are changing. In today's world, people want information fast, especially when it comes to travel. Consumers appreciate a more efficient experience. While Google is still widely used for broad search terms, native comparison search sites are rising in popularity because they provide the consumer with exactly what they want. By adding native comparison search, your brand can now be seen as a portal for information versus just booking a room or airfare.
Brands can bid on other travel brands' sites for consumer attention. Brands acting as advertisers can leverage this form of media to attract new users to their products. Instead of relying heavily on traditional search to drive users to your site, these brands can now supplement their traffic through native comparison search as it allows them to bid directly on a user that has shown strong intent to purchase. In addition, native comparison search will enable advertisers to bid on a granular level with full source transparency. Something that cannot be done if they are leveraging an ad network.
The focus for publishers and advertisers should always be the consumer. For publishers, it is the consumer's interest that generates the page views and ad impressions, which they are selling and earning revenue through.
For the advertiser, it is the consumer you are looking to target and entice with your message to purchase your product or service.
Leveraging native comparison search provides both advertisers and publishers with the solution they need while keeping the user experience top of mind.
---
This article originally appeared in PhocusWire, a comprehensive daily news companion for the industry, powered by Phocuswright, the most respected travel research authority and events brand in the world.