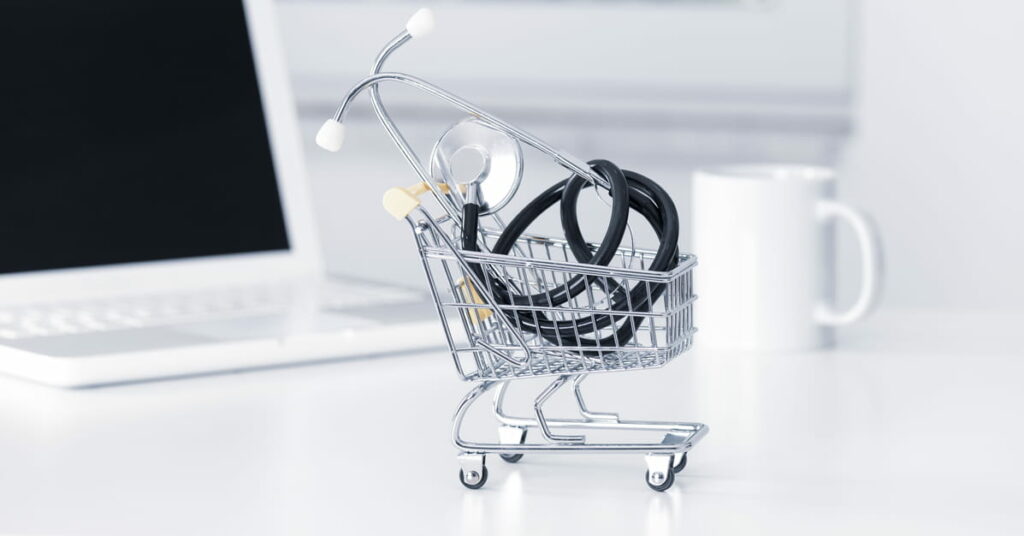 As the open enrollment season picks up steam, millions of health insurance shoppers are on the hunt for a policy that will meet their needs. For health insurance carriers, it's the time to grow your business, which means it's a crucial moment to make sure you have a firm understanding of your target consumers and how they like to shop.
That's why we recently surveyed 545 consumers who shopped online for health or Medicare insurance on our exchange over the past 12 months. By asking them detailed questions about their shopping journeys, we gained in-depth insight into the state of the healthcare shopping market. Here are four things to keep in mind as you pursue new customers during the open enrollment period.
1. One-third of insured consumers who shopped over the past year will be in the market for a new plan over the next 12 months
We found that 33% of surveyed health insurance and Medicare consumers who shopped over the past year are expecting to be in the market again for a new plan over the next 12 months. This presents a major opportunity for health insurance carriers, who can grow their businesses with savvy marketing during this time period.
2. Health insurance shoppers make purchase decisions more quickly than Medicare shoppers
We also learned that health insurance shoppers spend less time deciding on a policy than their counterparts in the Medicare market.
For instance, 60% of health insurance shoppers expect to enroll within two weeks of beginning their shopping journey, as compared to just 40% of Medicare shoppers who said the same. Meanwhile, 66% of health insurance shoppers expect to spend five or fewer hours researching plans, significantly more than the 47% of Medicare shoppers who expect to do so.
For health insurance carriers, this shorter sales cycle means it's good to get in touch with shoppers early and often—before they convert with someone else.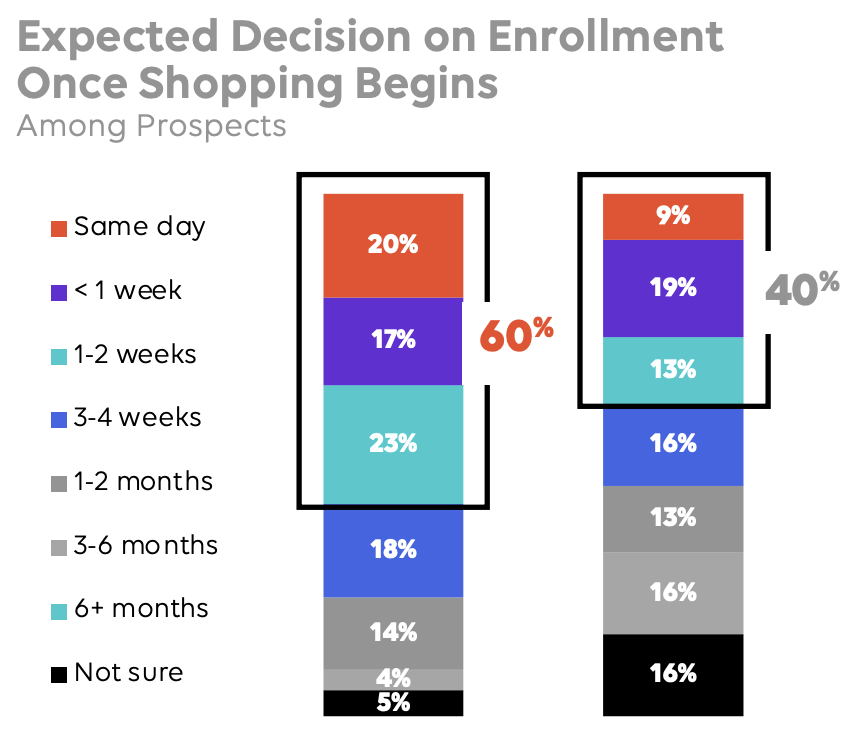 3. Health insurance shoppers value coverage quality above all—even price
One important take-home from our survey is the way that health insurance shoppers are making quality coverage their top priority. Almost three quarters of surveyed health shoppers—74%—cited a desire for broader, deeper coverage benefits as one of the reasons they might switch insurance plans. The second biggest reason for switching was price, with 38% citing reasons related to the cost of their plans.
For carriers, the upshot here is to make sure that your marketing messaging makes clear the different kinds of coverage your plans deliver for consumers.
4. Health insurance shoppers prefer to enroll online
For years, health insurance shoppers have become increasingly comfortable purchasing policies online. Now, a majority of them—57% to be exact—say that their preferred method of enrollment is online shopping. Another 30% said they wanted to buy over the phone, and just 13% wanted to purchase a policy in person.

Given the variety of channels shoppers like to use, it's a good idea to give consumers options that enable them to purchase a policy online, over the phone, or in person—and to make these options clear in your advertising and website copy.
Want to learn more about health insurance shoppers? We'd love to speak with you.
As health insurance carriers look to drive results during open enrollment, it's important to make sure you know your customer inside and out.
If you'd like to see the full results of our survey, or to learn more about how best to cater to the preferences of this year's health insurance shoppers, reach out to your MediaAlpha account manager today. And if you're not already a MediaAlpha client, you can always schedule a meeting with us on our website to learn more about how we can help you improve customer acquisition performance.