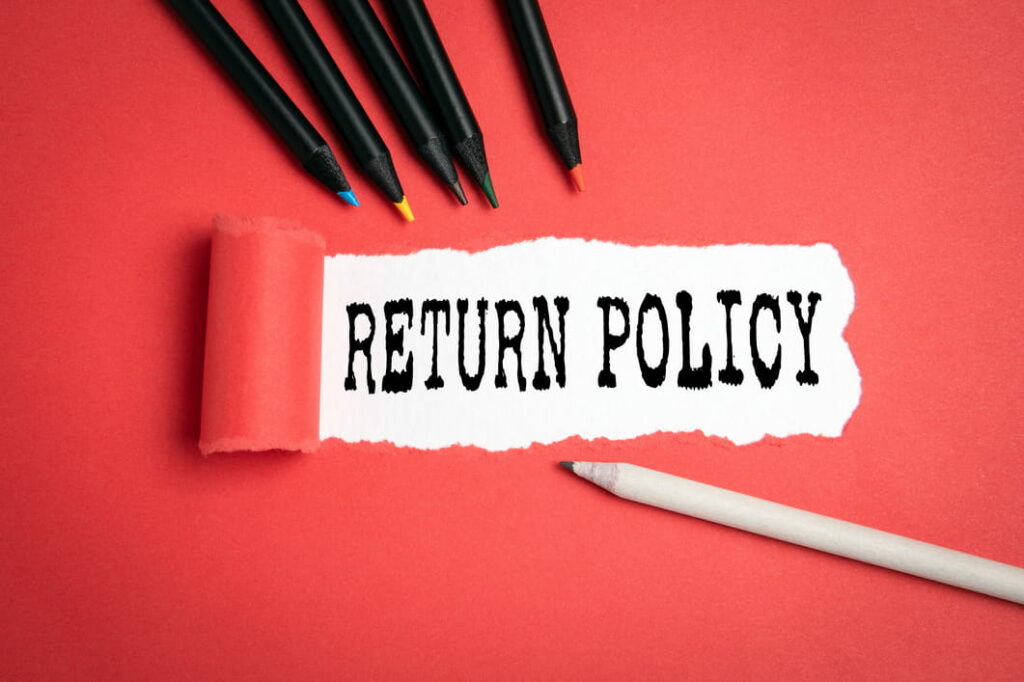 In addition to delivering the insurance industry's highest-quality online auto leads, we offer our agent partners a fast and easy way to return leads on the rare occasion that they purchase a lemon. If you click the return button on a lead's details page inside the MediaAlpha for Agents platform within seven days of purchase, your money will be refunded to your account automatically once the return is approved.
One thing to keep in mind is that there's a fine line between a lead that doesn't convert right away and one that is returnable under our return policy. In fact, we sometimes see agents return leads that could have become long-term customers with the right outreach strategy. Here are the eight dos and don'ts of returning leads on the MediaAlpha for Agents platform.
1. DO: Return your leads when the email address and phone number are both invalid
You'll want to return a lead any time it is impossible for you to reach the consumer based on the contact information they provided in the quote form. In order for you to return a lead for invalid contact information, both the email address and the phone number need to be non-working. That is, you can make a return when the email you sent the consumer bounced and the phone number you called was disconnected or belonged to a different person.
2. DON'T: Give up on a lead if they don't answer right away
There's a difference between a consumer who you can't contact because they've provided invalid contact information and one who is receiving your emails or phone calls but simply hasn't responded yet. If a consumer doesn't answer initially, don't give up—you can still sell them a policy if you work the lead the right way.
We recommend a consistent outreach strategy during the first month after you purchase a lead, as well as checking in with the consumer periodically after that. By using a persistent approach to consumer contact, our clients have been able to regularly sell policies to leads they purchased more than a year ago.
3. DO: Return leads with fake names or contact information
We always accept returns when a lead has provided a fictitious name or contact information. While we use an authentication service to flag overtly fake information such as a johndoe@yahoo.com email address or a 123-456-7890 phone number, some shoppers submit fake names, email addresses, or phone numbers that evade detection.
4. DON'T: Wait to return a bad lead
Our lead return policy is valid for seven days after you purchase a lead. And once your return is approved, we'll automatically refund the money you paid for the lead back into your account.
If we notice that an agent has an unusually high lead return rate—for instance, upwards of 20%—we will work to isolate the issue and ensure that all parties are acting in good faith.
5. DO: Return a lead if it doesn't meet the filtering criteria you've set
It's very rare, but there are occasionally instances where the wrong lead slips through the filtering criteria you've set on our platform. For instance, if you used the settings page to bid exclusively on standard and preferred consumers, but you wind up buying a lead whose details page reveals that they are non-standard. In this instance, you can and should return the lead for a filter criteria error.
6. DON'T: Get discouraged if a consumer has fudged a detail or two
We only accept returns for filtering criteria error if you purchase a lead who is outside your targeting parameters due to the information the consumer included in the quote form. That is, we do not accept returns if the consumer provided false details that misled our system to classify them as belonging to your target audience.
For instance, let's say you're only targeting consumers who've never had a ticket before. In this scenario, a consumer might indicate in their quote request form that they have a perfectly clean driving record. But after you purchase the lead, contact the consumer, and run their information, you might learn that there is in fact a ticket on their record. In scenarios like these, the consumer's failure to tell the truth about their vehicle, driving history, or demographic information would not be covered by our return policy.
The good news is that there's no need to panic. It's fairly likely that you will still be able to write a policy for the consumer, even if they were not in your original intended audience. If it does turn out that you are unable to write a policy for a shopper due to the false information they submitted in the quote form, please reach out to your client success manager to see how we can help.
7. DO: Return duplicate leads
We accept returns every time you receive a lead that you've already purchased from us within the past 30 days.
8. DON'T: Hesitate to reach out if you have questions
We hope this article has given you a better understanding of when to return the leads you cannot work and how to maximize the value of the ones you can. As a refresher, here are the four categories of bad leads you can return: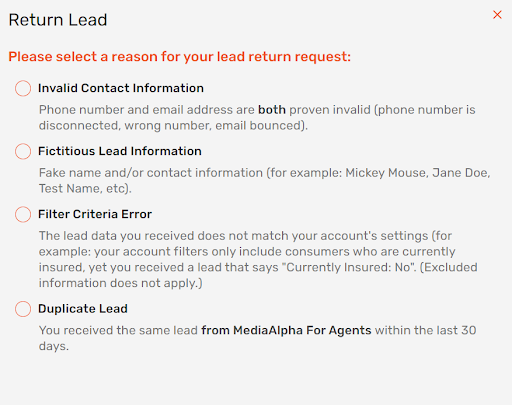 If you have any questions about our lead return policy, your client success manager will be happy to answer them. And if you're not already a MediaAlpha for Agents client, you can schedule a meeting with us on our website to learn more about our high-quality leads, user-friendly platform, and top-tier customer service.