For personal finance apps, the name of the game is helping consumers manage their financial health. Whether you're helping consumers monitor their credit, track their spending, or stick to a monthly budget, the end goal is greater long-term financial fitness for your app users. It stands to reason, then, that these consumers would be interested in tips and offers oriented to saving them money.
And when it comes to saving money, there are few bigger opportunities for consumers—and few places where they're more eager to save—than their auto insurance premiums. Each month, drivers devote a meaningful share of their income to insurance premiums, and many of them are either actively or passively searching for a better deal. By showing consumers contextually relevant, data-driven insurance advertising messages, personal finance apps can add a valuable new revenue stream that helps their users achieve their savings goals by reducing the cost of their insurance.
Auto insurance is a costly expenditure for consumers—that's why so many shoppers are open to a better deal
According to a rate analysis from Nerdwallet, U.S. consumers spend $1,592 on car insurance per year if they have good credit and a clean driving record—for other kinds of drivers, this number can rise to more than $3,000. And a recent report from Business Insider suggests that the average consumer spends about 3.5% of the national median household income to purchase an auto insurance policy each year.
When you combine these substantial costs with a competitive auto insurance market, it's no wonder that savvy consumers are always looking for ways to save. According to a study released by J.D. Power in April 2021, nearly half of U.S. drivers made changes to their auto insurance policy in the preceding year alone. Meanwhile, a 2018 article from LexisNexis reports that 75% of households had shopped for insurance in the preceding five years—and you'd have to think that consumers who are using an app to manage their finances would be even more inclined to entertain switching carriers if it means saving money.
Personal finance apps are a natural setting for relevant, targeted message about saving on auto insurance
Personal finance apps have a great opportunity to show their savings-hungry audiences personalized insurance shopping messages in a highly relevant setting. After all, when consumers are using their favorite financial apps, there's a good chance they're already thinking about saving money. That's why so many personal finance apps are already showing consumers offers for credit cards, home loans, and other financial products that can help them save for the future.
One of the benefits of showing auto insurance ads is that the industry's rates are publicly available. By combining what you know about your consumer with these public rates, you can create a highly compelling message. For instance, let's say you know that one of your users is a married 34-year-old who owns a Honda Pilot and that one of the major carriers has just lowered its rates significantly for shoppers who meet this criteria. You could show that consumer a tailored message that lets them know they might be able to save on their car insurance bill by shopping for a new policy. When they click the message, you'd be able to take them to a set of listings for insurance carriers who will be eager to connect with a consumer proactively searching for ways to save.
Here are two examples of what this could look like:
Insurance Rate Savings Calculator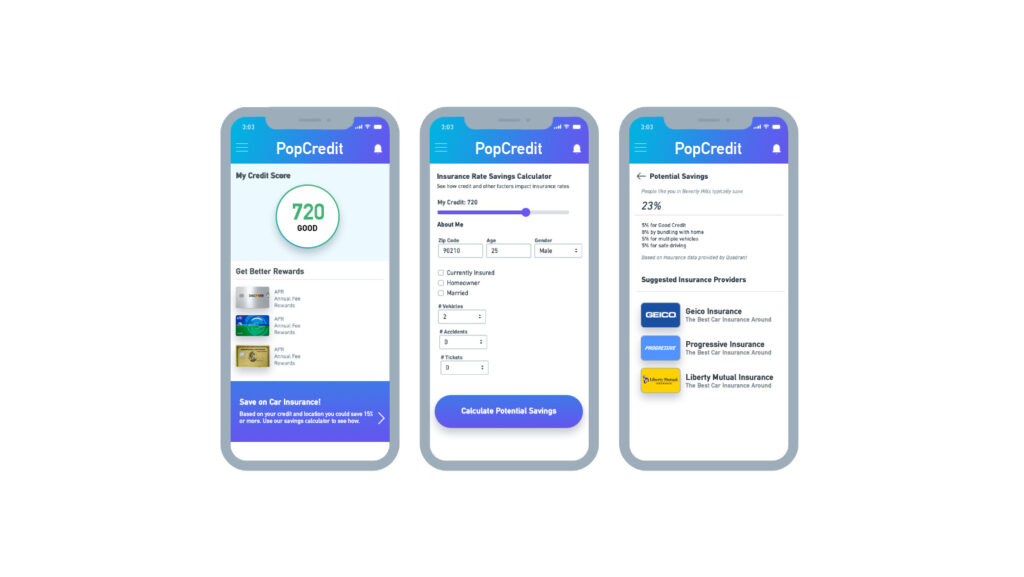 Spending List Native Message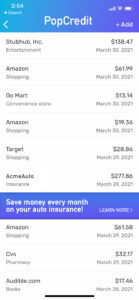 Let's talk about how we can help you better serve and monetize your users with personalized auto insurance offers
Personal finance apps are home to a large audience that's intent on improving their financial standing and likelier than average to be open to auto insurance offers. For these apps, including personalized auto insurance offers as part of the package is a no-brainer: It drives incremental revenues while delivering a better experience for the end user. Indeed, at least one of the industry's major players has already implemented these offers to great success.
Are you ready to open up a valuable new revenue stream and better serve your cost-conscious user base? Let's talk soon about how we can integrate highly relevant, personalized auto insurance messaging into your app.