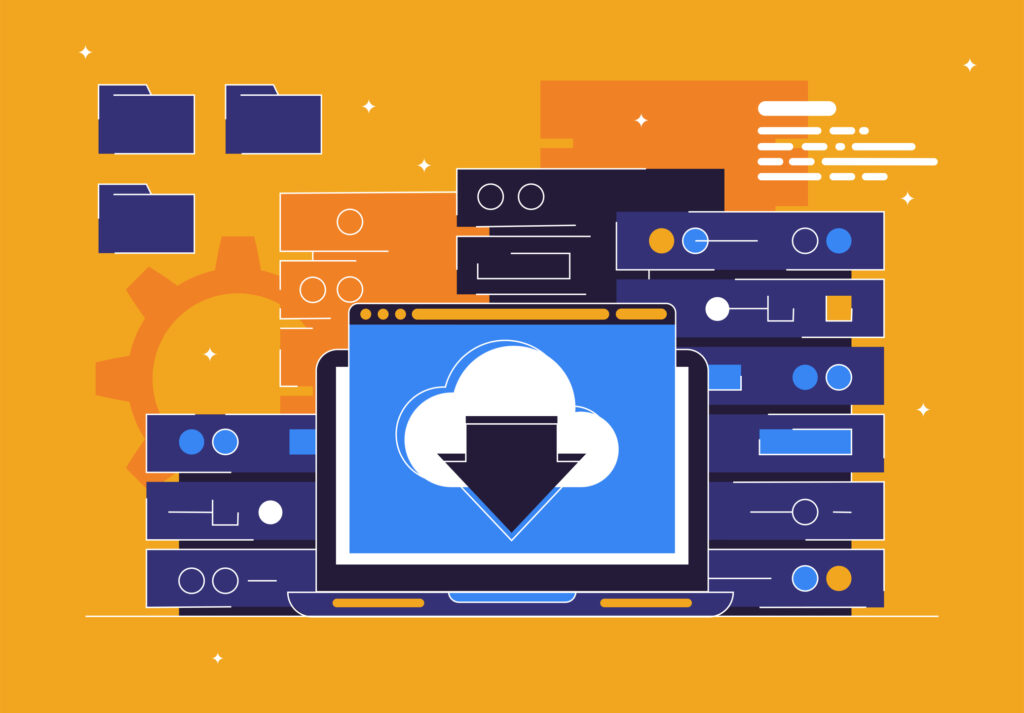 Whether we're talking about vertical search or digital marketing overall, maximizing your conversions means plugging as many holes in your marketing funnel as possible. And if you've not yet implemented data passing, there is a big, leaky hole in your funnel.
Let me explain.
A consumer searching online for auto insurance enters a keyword like "best auto insurance" into a search engine. She clicks on a result and is taken to a publisher that aggregates offers from a number of different carriers. She fills out their brief quote form to generate a set of results. Savvy marketer that you are, you're advertising on this site and your ad appears, along with several others.
Here's the rub: Once that consumer clicks on your ad and goes to your site, she's going to have to fill out your quote form—in addition to the one she just filled out on the publisher's site—if you haven't implemented data passing. This is, to put it mildly, not a great user experience.
You have to be prepared for the possibility that your shopper may not want to do that several times. She may also opt to hit the back button, click one of your competitor's ads and be pleasantly surprised to see that the data she already entered in the original form is already pre-filled for her on your competitor's site. Guess who's more likely to get the conversion? Hint: it's not you.
That is, unless you're using data passing to streamline the user experience and increase conversions.
After a consumer clicks an ad, MediaAlpha's data passing solution gives advertisers the information that she just finished filling out on the publisher site she came from. You can then use this information to prefill the fields on your form once the user arrives on your site.
In doing so, you reduce the number of form fields the customer needs to complete to get a quote, thus making it more likely that she'll follow through and purchase a policy. In some cases, insurance advertisers can even use the customer's information to send her directly to a quote page, providing an almost perfect 100% quote rate.
On top of improving conversion rates through a better user experience, data passing has the added benefit of opening up several new advertising opportunities for the auto insurers who take advantage of it.
Here, we'll take a look at how data passing works, and how you can use it to maximize your conversions.
How data passing enables pre-filled forms and a better user experience
MediaAlpha's data passing solution uses a four-step process to create pre-filled forms for insurance advertisers.
Here's what it looks like: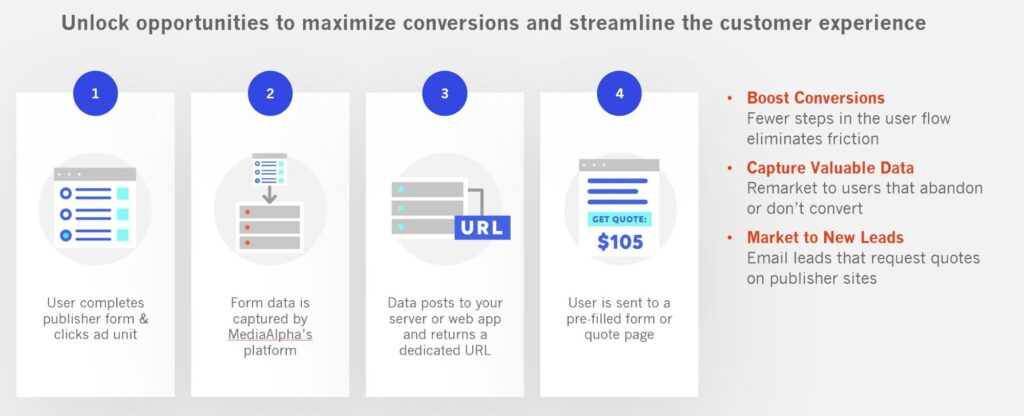 Our solution can be implemented quickly and easily by MediaAlpha's best-in-class customer service team, allowing you to improve your user experience and increase conversions right off the bat.
Data passing opens up opportunities for advertisers to build smarter, more effective marketing operations.
In addition to the smoother, higher-converting ad experiences created by the pre-filled form, data passing enables two additional conversion-boosting opportunities: Brand protection and email leads.
Brand Protection
MediaAlpha's brand protection program dramatically reduces the number of clicks other companies are able to win from bidding on your branded search terms, allowing you to claim a greater share of the traffic that's rightfully yours. We do this by creating partner sites that bid on your branded search terms and forwarding the traffic from our landing pages to your official website.
Once you integrate our data passing solution, you'll be able to show these visitors a pre-filled form that already includes the information they submitted on our landing page. In essence, data passing makes our brand protection program more potent, as the additional visitors we attract are more likely to convert with a streamlined user experience.
Email Leads
When you purchase leads via the MediaAlpha marketplace, we can send your target customers an engaging, branded email designed to match the look and feel of your website. And when you've integrated data passing, we're able to use this email to drive recipients directly to a pre-filled form, allowing for a quick, easy conversion.
MediaAlpha's customer service team can help you implement and optimize your integration in a matter of no time
With these benefits combined, data passing is a truly foundational integration for insurance advertisers. It lifts conversions through a better user experience and enables powerful new marketing opportunities. It even serves publishers by helping them deliver higher conversion rates, thus lifting the value of their inventory.
And to top it all off? Our fast, experienced account team can get you set up right away, and they're always available to strategize about how you can use data passing most effectively.
Ready to get started? Reach out to your account team or contact us for a demo.