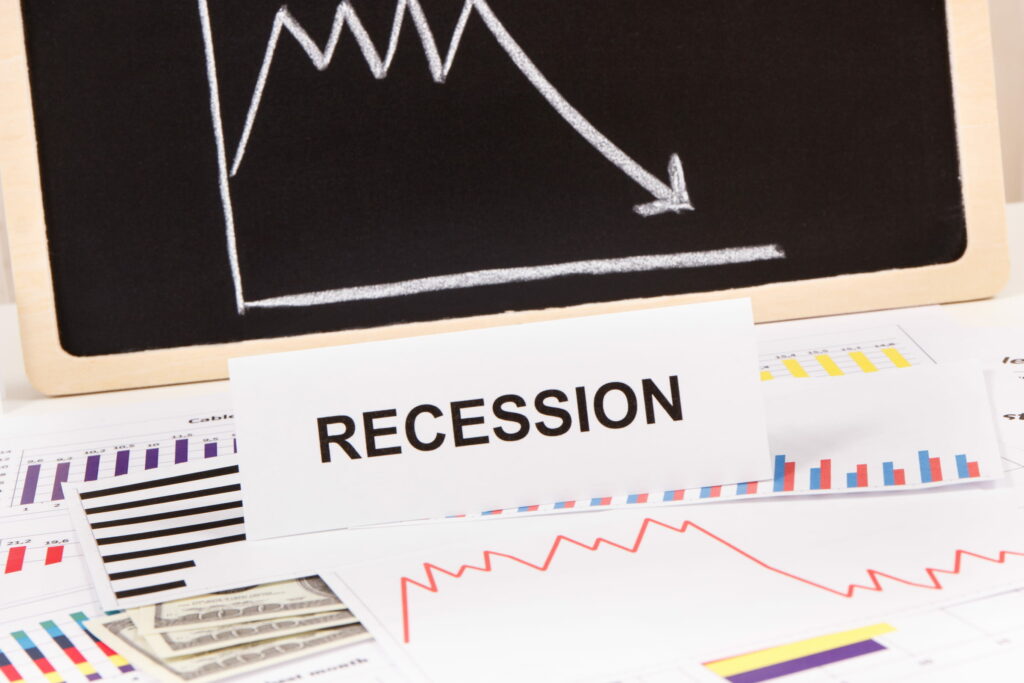 For financial app publishers, recessions pose a unique threat to the bottom line, particularly when it comes to advertising revenue.
It's true that you might see an uptick in new users as consumers become more inclined to track and improve their finances during a tough market. But these same consumers might not be in the position to get approved for the mortgages, credit cards, and student loans that personal finance apps typically promote. Meanwhile, banks usually tighten their lending requirements and reduce their marketing spend during recessionary environments. When there's less advertiser demand for your ad placements and consumers are less likely to engage with your advertising, you're going to see a decline in your monthly ad revenue.
One way financial apps can protect against this decline is by adding offers for auto insurance to their advertising arsenal. While car sales are certainly impacted by a recession, auto insurance has proved to be remarkably stable in past recessions. After all, auto insurance is mandatory for everyone who owns or leases a car, and consumers impacted by a recession are heavily incentivized to shop for cheaper coverage.
When implemented with the right user experience, targeted auto insurance offers can help you earn crucial advertising revenue and unlock badly needed savings for your users.
Auto insurance is unusually recession-proof, and carriers will be looking to sign up new customers
While loan demand typically decreases in a recession, demand for auto insurance remains relatively stable. In a July 2022 report, the equity research firm Dowling & Partners found that auto insurance was one of the most recession-proof insurance products, with most policies remaining in force throughout. In fact, a recession might cause consumers to drive less if they're looking to save on gas, or if they no longer have jobs that require them to commute. This would mean fewer accidents, giving auto insurers better profit margins and more money to spend on acquiring new customers.
At the same time that auto insurance advertisers will have more money to spend on advertising, consumers will be more likely to shop for a new policy. After all, they'll be even more incentivized than usual to save money by switching to a cheaper plan. For instance, the 2008 recession saw a significant increase in the number of consumers who switched to a new carrier. By contrast, the number of U.S. mortgage applications fell precipitously throughout the course of 2008, before rising at the very end of the year. Credit card applications also declined significantly during the 2008 recession.
The upshot? A recession means auto insurance carriers will likely have stable or rising advertising budgets, and consumers will be eager to buy what they're selling—all while other financial products take a hit.
Financial apps can play a key role in connecting consumers with the right auto insurance plan
Personal finance apps can capitalize on this strong consumer and advertiser demand by implementing a native, interactive user experience that matches app users to the insurance policy that works best for them.
As we've written in the past, auto insurance is a natural fit for consumers who turn to personal finance apps to track their spending and grow their savings. According to a report from Business Insider, the average household spends $1,070 per vehicle annually on auto insurance premiums. Naturally, a large number of cost-conscious personal finance app users are eager to trim this common expense by shopping for a more affordable plan.
Because these consumers are already thinking about saving money when they're using your app, it's a natural time to show them an opportunity to save on their auto insurance. When you combine what you know about the consumer with publicly available auto insurance rate information, you can craft a highly compelling message for the shopper.
For instance, you can make a pretty accurate guess at how much your consumer might be able to save by switching insurance plans. Then you can display this information to them via a native placement in your app, or in an email or text alert.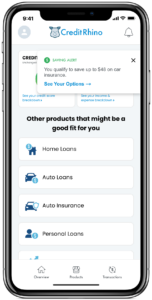 If the consumer chooses to engage, you can guide them through a shopping experience that allows you to collect additional information about their insurance needs, as well as their current policy if they have one.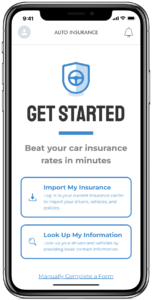 This way, you can present them with the policy offers that are most likely to be the best fit for them.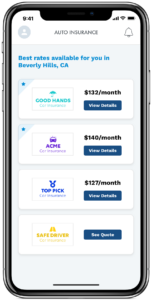 With personalized offers and a seamless user experience, personal finance apps typically see strong conversion rates with this kind of auto insurance advertising.
Want more information on how to capitalize on auto insurance shopping during the recession? We'd love to help.
Auto insurance advertising is always a great fit for personal finance apps, but it's especially potent during a recession. With other kinds of financial products likely to see a decline in consumer demand, auto insurance stands out as one that will remain viable regardless of the broader economic conditions—particularly as consumers look for new places to save money.
If you'd like to learn more about how you can integrate targeted, seamless, and compelling auto insurance messages into your personal finance app, we'd love to share a little bit about how we can help. With a top-flight user experience and a highly advanced monetization engine, we enable personal finance apps to provide additional value to users while earning the greatest possible advertising revenue. Just reach out to us on our website, and we'll be in touch to talk more.