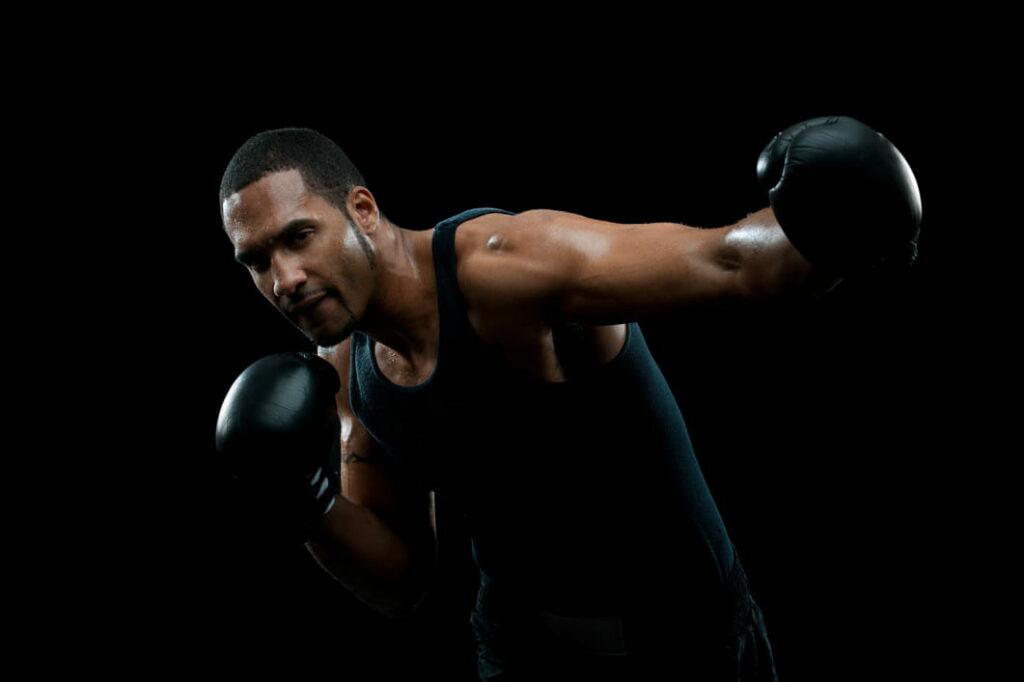 Over the past year, property and casualty (P&C) insurance media costs have decreased considerably as carriers have reduced their marketing spend in order to curb rising hard-market loss ratios and improve their profitability.
But while this trend has made the customer acquisition marketplace noticeably less competitive, carriers are already hard at work raising their rates to be more aligned with the costs of insuring their customers. Before you know it, the hard market will be over, and carriers will be aggressively pursuing new customers to replenish their policies in force and grow their books of business. When this shift to growth mode occurs, the carriers who react most quickly to changes in the marketplace will have a significant leg up in acquiring customers efficiently and profitably. With the help of MediaAlpha's managed service and our team of data scientists, you'll be able to adjust to changing marketplace conditions in real time.
If you're unfamiliar, MediaAlpha's managed service empowers our carrier partners to acquire new customers with greater scale and efficiency through the hands-on help of our expert team of data scientists. Through the managed service partnership, we're able to help you identify and value the inventory that's best suited to helping you achieve your marketing goals. When things heat up following the hard market, this partnership will be crucial for succeeding in a dynamic and highly competitive marketplace.
Managed service helps our partners maximize efficiency without giving up transparency or control
MediaAlpha's managed service acts as an extension of your team to help you exceed your marketing goals. You tell us the marketing goals you want to optimize for, and our team of expert data scientists works to help you identify the best traffic for your campaigns and set the bids that will drive the most value for your business. Because we see the entire customer acquisition marketplace on the industry's largest bottom-of-the-funnel marketing platform, we're uniquely positioned to help you find the nooks and crannies in the marketplace that are the best fit for your specific business goals. As a bonus, this service is available to you free of charge.
While carriers sometimes worry that working with our managed service team means a loss of transparency and control, the truth is that your team remains firmly behind the wheel throughout. Whenever you want, you can change your business goals, and we'll start working to optimize for your new objectives. And as always, we provide deep transparency into your marketing performance at all times. This means that the proof of our managed service team's success lies in the data—you'll always be able to tell how you're progressing toward your customer acquisition goals.
Due to the insights provided by our best-in-class optimization algorithm and expert data scientists, our carrier partners typically find that they achieve significantly better performance when working with our managed service team than they do working alone.
In fact, when one property and casualty carrier began using our managed service to optimize its campaigns, it quickly saw a major increase in new policy sales as well as a significant decrease in its cost-per-bind. This enabled the carrier to significantly increase its investment in our platform and profitably acquire new customers. The carrier had already been acquiring customers with a positive return on investment. With managed service, it was able to effectively quadruple the number of new customers it was able to acquire—all while the cost of acquiring each new customer went down by 17%, thus making each policy sale more profitable.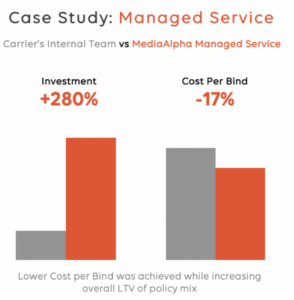 Managed service is a must-have in the fast-moving marketplace we'll see once the hard market is over
While carriers have been relatively quiet during the hard market, the activity in our marketplace will increase exponentially once carriers' rates are in alignment with their profitability goals. CPCs will rise quickly and fluctuate a great deal based on customer segment, geography and publisher. As a result, it's a time when you'll get even more benefit than usual from working with a managed service team that is keeping tabs on the entire marketplace.
Indeed, when things are moving quickly, this birds-eye view of the market is crucial for helping you identify the latest and greatest traffic that fits your campaign goals. When you work with our managed service team, you're working off of real-time feedback from the industry's largest customer acquisition marketplace. If you're not, you could be adjusting your bidding strategy based on weeks- or even months-long feedback cycles, trailing the intel from your competitors who are using managed service.
The hard market will end eventually—it's important to get ready now
As carriers continue to raise rates, we get closer to the end of the hard market with each passing day. When that time comes around, you'll want to make sure you're not only using our managed service to optimize your performance, but also that you've ironed out your best practices for maximizing your results.
By getting started with managed service now, you'll have ample time to set and adjust your goals and work with your account manager to optimize your campaigns. Then, when the hard market ends, you'll be ready to hit the ground running at the same speed as the industry's most sophisticated media buyers.
If you're interested in learning more about how managed service can help you better reach your customer acquisition goals, or about MediaAlpha in general, you can contact your account manager or set up a meeting with us on our website.