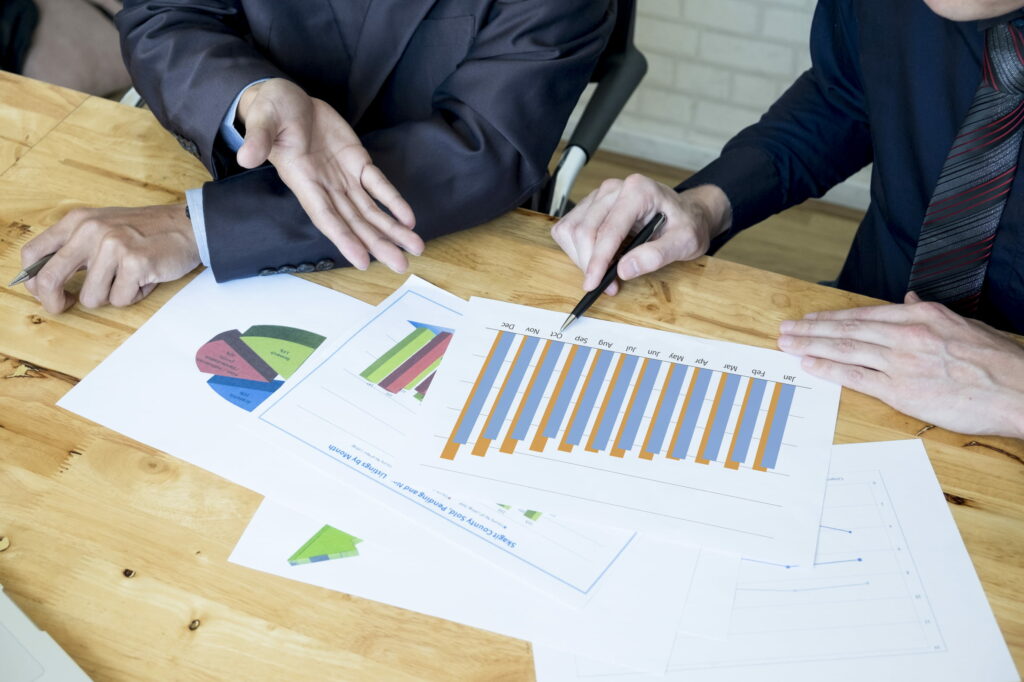 For insurance carriers, optimizing customer acquisition is no easy task. Maximizing your digital marketing performance requires you to carefully adjust your bids and routinely update your strategy based on your results. And in order to do that, you need customer acquisition expertise, deep insight into the insurance marketplace, and a firm understanding of your own business goals. It's a tall order for even the most sophisticated insurance carriers—and it's no wonder so many of the industry's leading players rely on MediaAlpha's managed service to assist them.
When you work with MediaAlpha's managed service team, you get hands-on support from a group of expert data scientists with years of insurance industry experience—along with our best-in-class optimization algorithm. By continuously reviewing campaigns and working with our carrier partners to implement strategic targeting and bidding adjustments, we've been able to help some carriers scale their customer acquisition while significantly lowering their cost-per-binds.
Here are four things our managed service offering brings to the table to help insurance carriers achieve better customer acquisition performance than they do anywhere else:
1. The industry's best optimization algorithm
The best way to boost your performance is to use our hyper-efficient optimization algorithm to harness the power of your first-party business data. When you connect your sales data to your marketing data, you'll be able to see which of your ad clicks turned into sales. And you can optimize further when you use your data to determine how much lifetime value you expect to receive from each shopper. Once you have this information, you can set intelligent marketing goals and use our tried-and-true algorithm to begin optimizing for them.
Time and again, our algorithm outperforms those that are offered by competing platforms. In fact, when one property and casualty carrier began using our managed service to optimize its campaigns, it quickly saw a 280% increase in its investment on the platform and a 17% decrease in its cost-per-bind. In essence, the carrier was able to acquire many more customers at a significantly lower cost-per-acquisition.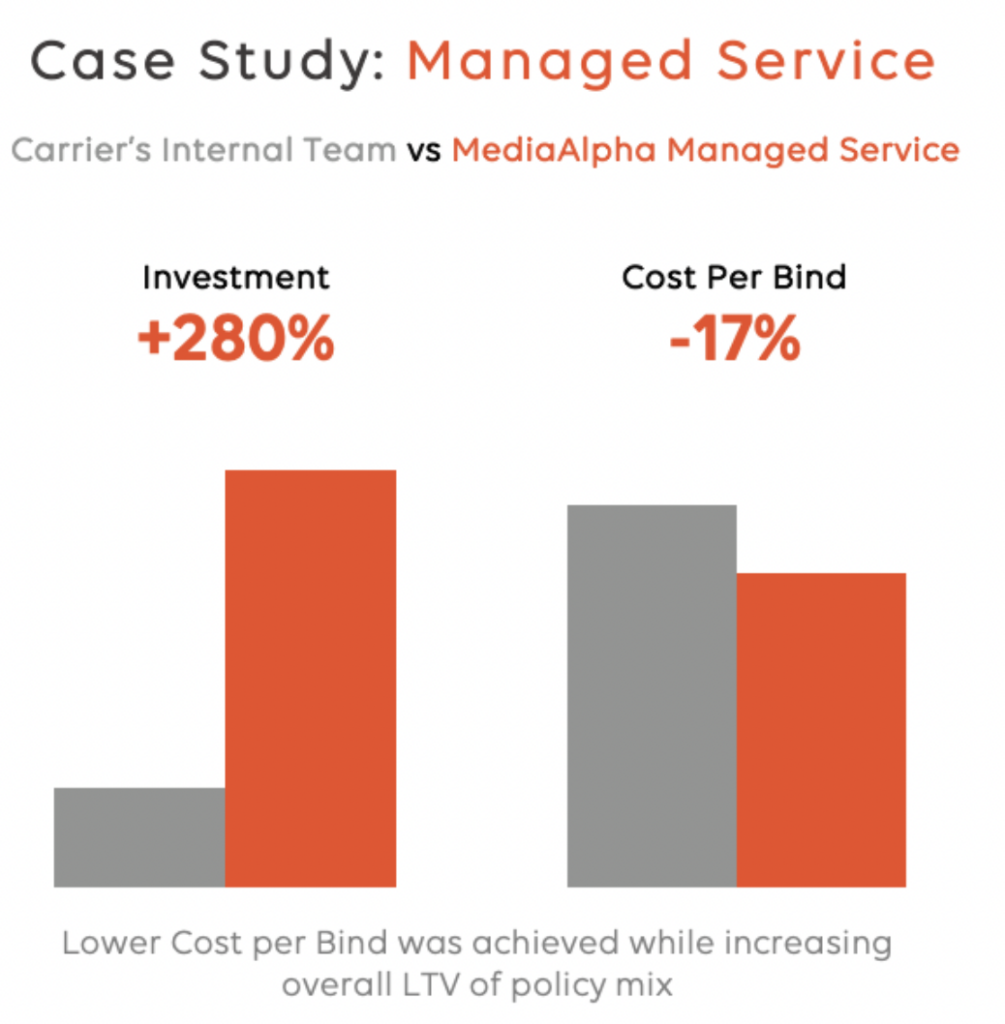 2. Unique marketplace insights
MediaAlpha empowers you to bid on more of the insurance customer acquisition marketplace than anyone else. Our exchange handles hundreds of millions of dollars in transactions each year, offering insurance advertisers access to more in-market shoppers and high-quality publishers than any other platform.
This overview enables our managed service team to uncover granular insights into how your campaigns are performing and what changes might improve your results. Because we see the entire customer acquisition marketplace, we're well-positioned to identify how you can get more of the customers you need at a cost that grows your profit margins.
3. Granular adjustments via 24/7 campaign monitoring
Our team of expert account managers monitor your campaigns around the clock, always looking for small tweaks you can make to drive greater performance. Our sophisticated algorithms detect any deviations from the norm in your campaigns, such as changes in volume, publisher price spikes, and more.
Any time we notice an issue, our team reacts as soon as possible to help you address it. Indeed, even very sophisticated in-house marketing teams sometimes do not have the bandwidth to monitor campaigns as closely and help you make bid adjustments as frequently as we do.
4. Committed, hands-on support from our managed service team
Our managed service option is administered by a team of hands-on industry experts and top-flight data scientists with decades of experience in property and casualty, health, life, and Medicare insurance. Each team member is committed to serving as an extension of your own in-house team, working hard to do everything they can to help you achieve your business goals. That's why most of the industry's top carriers trust us to advise them on their campaigns and help them achieve the results they deserve.
Want to learn more about how our managed service can help you drive superior customer acquisition performance? Let's talk.
MediaAlpha's managed service empowers you to achieve maximum customer acquisition performance without the overhead costs of using in-house resources to continuously monitor and assess your campaigns. With the best optimization algorithm, the most expansive view of the marketplace, and the most dedicated customer service team, we equip our clients with everything they need to earn the highest possible return on investment.
If you have questions about how our managed service drives greater performance, just reach out to your account manager. And if you're not already a MediaAlpha client, you can always schedule a time to speak with us on our website.