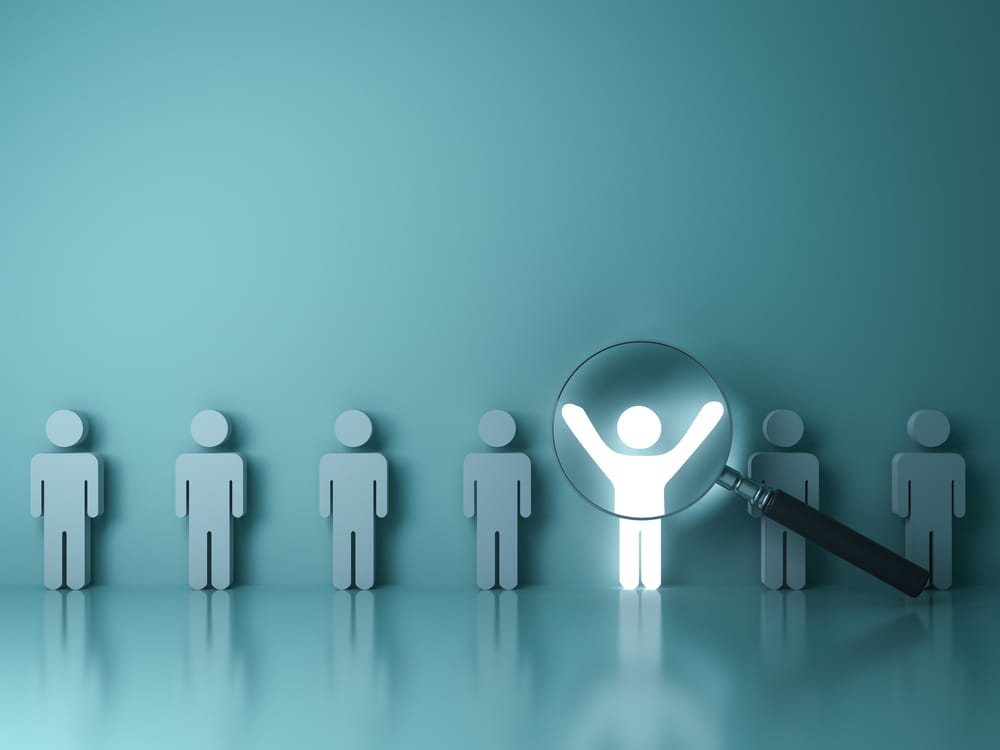 No matter what kind of insurance agent you are, it's always a challenge to get the right online insurance leads, right when you want them.
If you're running a large agency, it can be difficult just to get enough of the high-quality leads you need to support your producers and grow your business at a scale that meets your business goals. Meanwhile, agents at smaller businesses and one-person shops often wind up paying in advance for leads they don't have time to work because they're busy with other tasks. In both scenarios, every dollar is precious, and you can't afford to waste money on leads that don't connect you with in-market shoppers who are the right fit for your business.
That's why we're proud to offer our browse-and-buy option, a first-of-its-kind feature that makes lead buying easier and more efficient for large and small agencies alike. This feature gives agents access to more in-market insurance shoppers by delivering a real-time feed of leads that can be purchased à la carte. In addition, this option provides deep transparency into each consumer's demographics and driving history, as well as greater insight into how the shopper has interacted with competing agents.
The browse-and-buy feature is the perfect complement to our existing automated delivery buying option for large agencies that want to increase volume or experiment with new consumer groups. Or it can be used as a time-flexible alternative to automated delivery, by smaller agencies that are looking to hand-pick individual leads when they have time to work them.
And just like our automated delivery option, browse-and-buy gives agents access to the industry's highest quality leads, sourced exclusively from our owned-and-operated insurance shopping websites and our highly trusted publisher partners.
Our browse-and-buy feature enables agents to grow their volume by testing out new audience segments
As a refresher, our existing automated delivery option puts agents in the driver's seat by giving them the power to set their own bids for precisely targeted audience segments. Agents can control how many leads they purchase, as well as filter consumers by a wide range of attributes that include location, coverage history, and driving history. This auction-based mode of buying requires an agent to pre-set their desired spend and bidding parameters in advance. Leads that fit these parameters are delivered to the agent's inbox right when they're generated.
By contrast, our browse-and-buy option shows agents a real-time feed of new leads they can purchase instantaneously at a market rate. Prior to buying, agents can view key details about the consumer, such as when the lead was generated, where the consumer lives, and what their driving record and coverage history look like.
If you're looking to increase your volume beyond what you're getting through your automated delivery campaigns, browse-and-buy enables you to purchase individual leads that sit outside your automated delivery targeting parameters. This way, you can try out new consumer types and purchase additional leads whenever you have time to work them.
Browse-and-buy offers unprecedented scheduling flexibility for agents who don't always have time to work leads
In addition to serving as a complement for agents who are also running automated delivery campaigns, the browse-and-buy option can be used as a stand-alone alternative for agents who are looking to buy specific leads instantaneously and on their own schedule.
One of the biggest problems for agents who buy leads, particularly those at smaller agencies, is that they don't always have time to work them right away. If a lead comes in when you're tied up with another task and there isn't another person in the office to call the consumer, you run the risk of losing out to a competitor that is able to contact the shopper more quickly. In essence, you wind up paying for a lead that might have already purchased a policy with a competitor by the time you're able to dial them.
The browse-and-buy feature solves this problem by enabling agents to sit down and look for leads on their own time. When you have time to pursue new customers, you can browse a feed of fresh leads, find the exact consumers you want to talk to, and reach out to them right away. And you can do all this without making an upfront commitment to purchase a certain number of leads in advance.
Browse-and-buy reveals more information about your target customers than ever before
MediaAlpha for Agents clients can find the browse-and-buy option on the Opportunities page of our lead-buying platform.
There, you'll see a list of recently generated leads, alongside the prices you can pay to purchase each lead on a pay-per-lead or pay-per-connection basis (more on these two payment methods shortly). The list can be filtered by geography, consumer type, and which competing agents have already purchased access to the lead.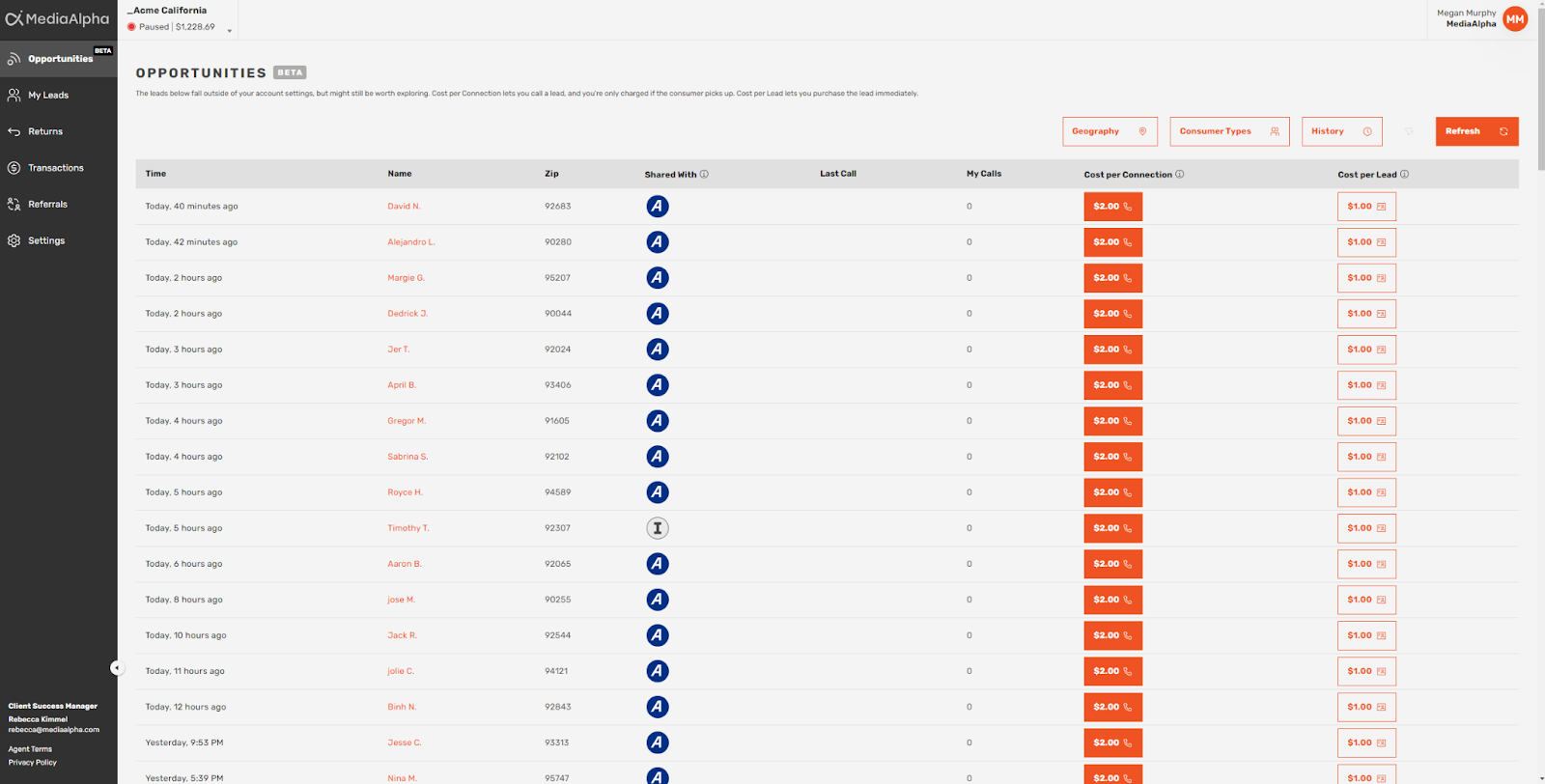 When you click the lead, you'll be able to see the lead's location, vehicle ownership history, driving and coverage record, and more—all before you decide whether to buy it.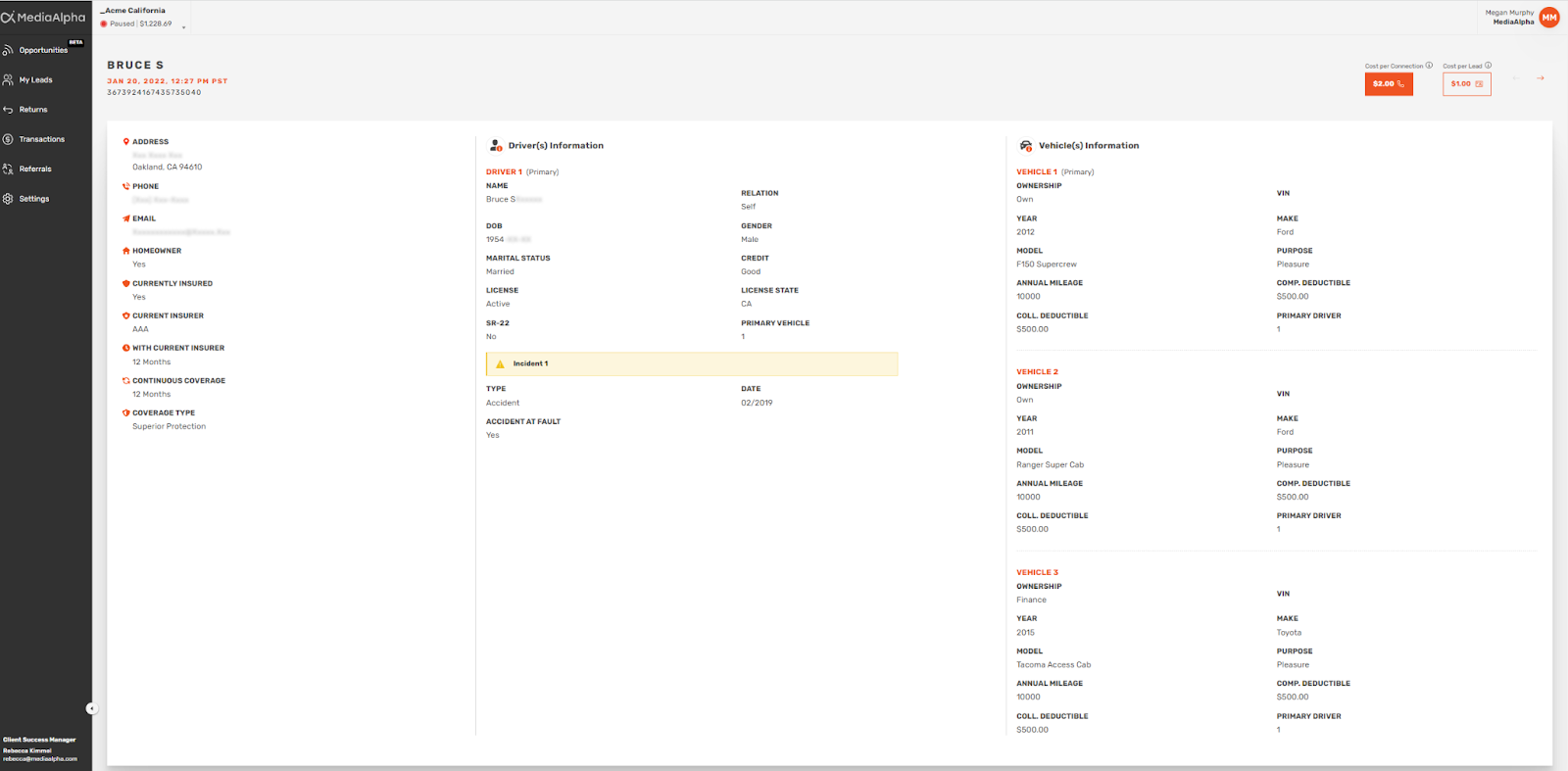 Two ways to purchase browse-and-buy leads: pay-per-lead and pay-per-connection
If you looked at the screenshots of the Opportunities page above, you may have noticed that there are two price columns: cost-per-lead and cost-per-connection.
The cost-per-lead option is fairly straightforward: we show you the price of the lead and you click a button to purchase it. Then, we share the lead's contact information and consumer details with you via email and inside the MediaAlpha platform. The lead is then yours to call, email, and text as much as you'd like.
Our cost-per-connection option is the first of its kind in our industry, enabling agents to pay only when they're actually able to have a conversation with the consumer. When you click the buy button, we'll assist you with the consumer connection through our platform. If the consumer answers and you're able to have a conversation with them, you'll be charged the cost-per-connection price listed on the page and immediately have access to the consumer's full lead details. If you're unable to connect, it will be as if nothing happened—you won't receive the lead or be charged for it.
Given how frustrating it can be to buy leads that don't answer the phone or respond to emails and text messages, we thought agents would appreciate having the option to buy leads on a pay-per-connection basis. And so far, the feedback bears this out—our agent partners love it.
Agents can gain unprecedented insight into a lead's shopping journey
You also might have noticed the carrier logos on the Opportunities page. These logos indicate that an agent has purchased access to the corresponding lead on the feed. And if one of those agents has connected with the consumer using our cost-per-connection option, we'll place a checkmark next to their logo to let you know they've been in touch with the shopper.
Combined with the details on the lead information page, these insights arm our agent partners with more information about the lead they're purchasing than any other provider. The upshot? You'll be able to make the best decision possible about how to grow your business.
For instance, if you see that a lead has been contacted by an agent whose carrier's rates are not as competitive as yours, you might feel more confident that you'll be able to get in touch with the consumer and offer them a better rate. Or, if we've verified that multiple agents have already connected with the consumer, you might decide it's better to try a different shopper.
Ready to start getting more out of your lead buying? Let's talk.
Our browse-and-buy option takes our industry-best leads to another level by giving our agent partners even more of the flexibility and control they need to maximize their performance. If you're a MediaAlpha for Agents client hoping to learn more about how browse-and-buy works and how you can use it to earn more new customers, just reach out to your client success manager to set up a call.
And if you're not yet a MediaAlpha for Agents client, we'd love to tell you a little more about why so many agents trust us to help them build their businesses. Schedule a meeting with us on our website to learn more about our high-quality leads, best-in-class customer service, and transparent, flexible buying platform.