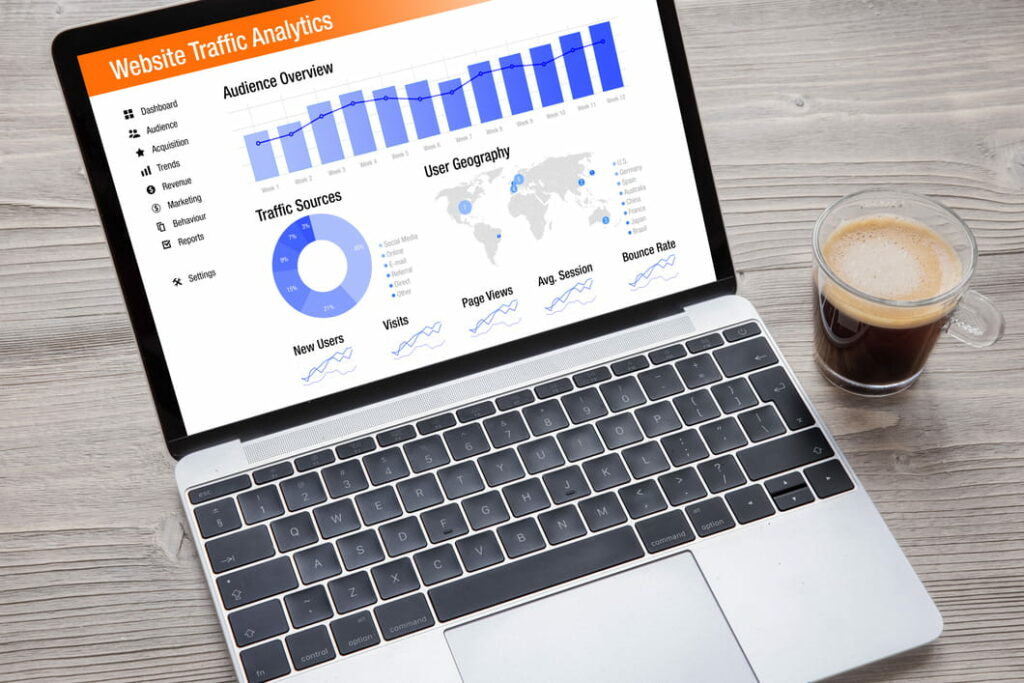 The hard market has forced property and casualty insurance carriers to make a number of changes in pursuit of greater profitability. Throughout the year, carriers have compensated for industry headwinds by raising rates and reducing their advertising spend. Now, some of them are choosing not to quote a greater number of consumers that they believe will be unprofitable for them at their current rates—or they're raising rates for these shoppers to a point where it is highly unlikely they will bind.
While this strategy can help carriers straighten out their loss ratios, it also creates a problem. When you increase the number of consumers you're not able to serve, you're also increasing the amount of money you're wasting to attract consumers to your website that you're not going to bind.
After all, you frequently won't know that a shopper isn't a fit for you until you've already paid for the search or social ad that brings them to your website. When you can't show them a quote, you're unable to recoup the money you've spent to attract them. Not only that, but you're also creating a bad user experience by asking a shopper to fill out your quote form—only to find out afterward that they won't be able to get a policy from you or that the premium is prohibitively expensive to drive carrier profitability.
Fortunately, these problems have a solution. You can monetize these shoppers by showing them alternative listings for carriers who actually can help them get a policy. When the consumer clicks the link to another carrier, you get paid—sometimes as much as $100 due to the high intent of the shoppers who come to your site. Or you can choose to link them to another brand that's owned by the same company as you, giving your corporate parent another crack at binding the shopper.
Either way, you're turning empty visits to your site into potentially millions of dollars in new revenue. In turn, these funds can help you offset a significant portion of your marketing costs at a time when you might be operating on a tighter budget than usual.
Non-served monetization helps you offset your marketing costs by earning new revenue from shoppers you can't bind
While carriers sometimes flinch at the thought of pointing shoppers elsewhere, it's important to remember that we're talking about consumers you won't be able to serve. Maybe you're currently not quoting non-standard drivers in California, or you've temporarily paused customer acquisition in certain New York zip codes where it no longer makes sense for you to offer policies.
Indeed, there's no point moving forward with a customer if you know they're not going to help you reach your profitability objectives. And, as noted earlier, you can also keep shoppers in-house by referring them to one of your sister brands. Or you can show a set of listings that includes links to both sister brands and outside carriers.
Here's what it can look like on your site: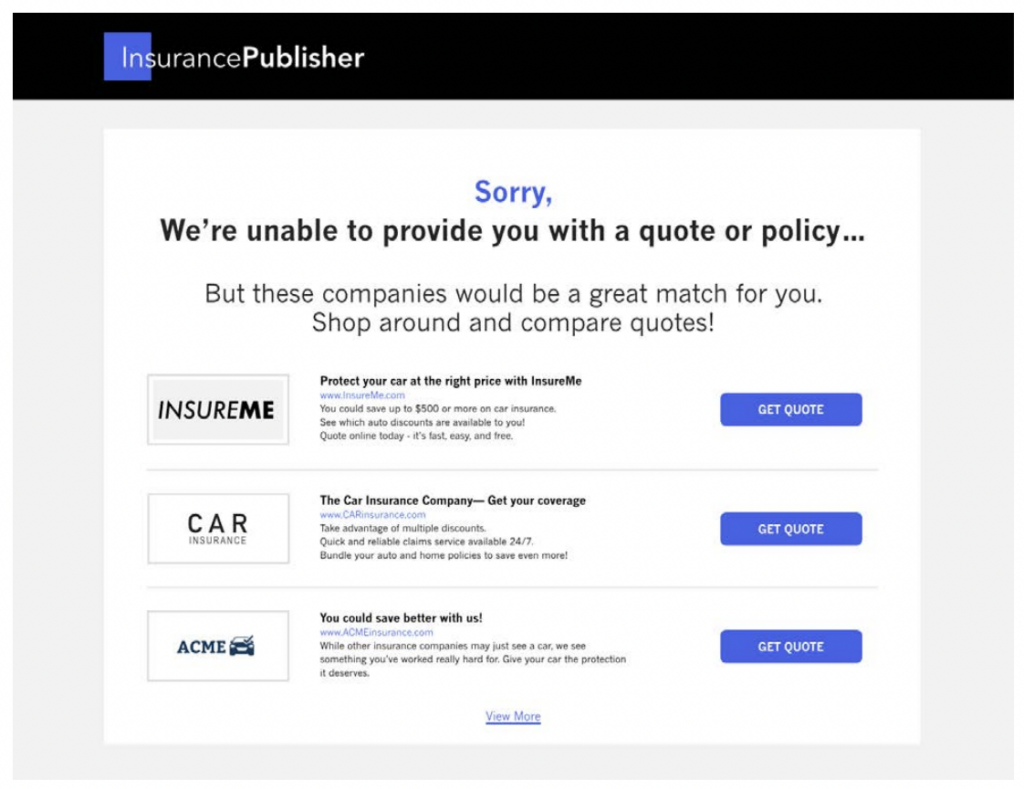 Predictive Experiences help you generate new revenue from shoppers who are eligible to buy a policy, but who are highly unlikely to do so
In addition to consumers you're no longer serving, you might also consider monetizing the shoppers who are eligible to purchase a policy from you, but who are highly unlikely to do so. This group can include consumers for whom you've raised rates to such a point that you are no longer competitive in the market, as well as other shoppers who historically have been unlikely to bind with you.
The way to do this is by building a predictive model to determine which shoppers are most and least likely to bind with you, and then alter the user experience based on what you've learned. We call this tactic Predictive Experiences, since you're using predictive analytics to show each group of shoppers the consumer experience that will help you earn the most revenue from them, regardless of whether that revenue comes from policy sales, listing clicks, or a combination of both.
Several of the industry's leading carriers are already using Predictive Experiences to recoup a whopping 20%-30% of their digital marketing costs—in some cases, tens of millions of dollars annually.
Depending on the data science resources you have available in-house, you can either build your own predictive analytics algorithm or work with our team at MediaAlpha to create one for you. A good predictive model will incorporate data about past shoppers—their demographic and contextual data, the details of the quote you gave them, and whether they converted—to predict how similar shoppers will behave in the future.
Employ a range of Predictive Experiences for best monetization results
When you employ Predictive Experiences, you're not just making yes-or-no decisions about whether to show listings on your quote page—you're also deciding how to show those listings. Generally speaking, you'll be most successful when you adjust the consumer experience in a nuanced way that aligns with the particular insights you receive from your model.
For instance, if your predictive modeling identifies a certain group of consumers as eligible for coverage but especially unlikely to purchase a policy, you can choose to show them prominent listings for other brands right below your own quote. If the consumer is somewhat likely to bind, you can show a prominent quote and smaller listings lower down the page. And if the consumer is highly likely to bind, you can decide not to show them any alternative offers at all.
Here's what this setup looks like, with a range that includes no listings, light listings, and very prominent listings: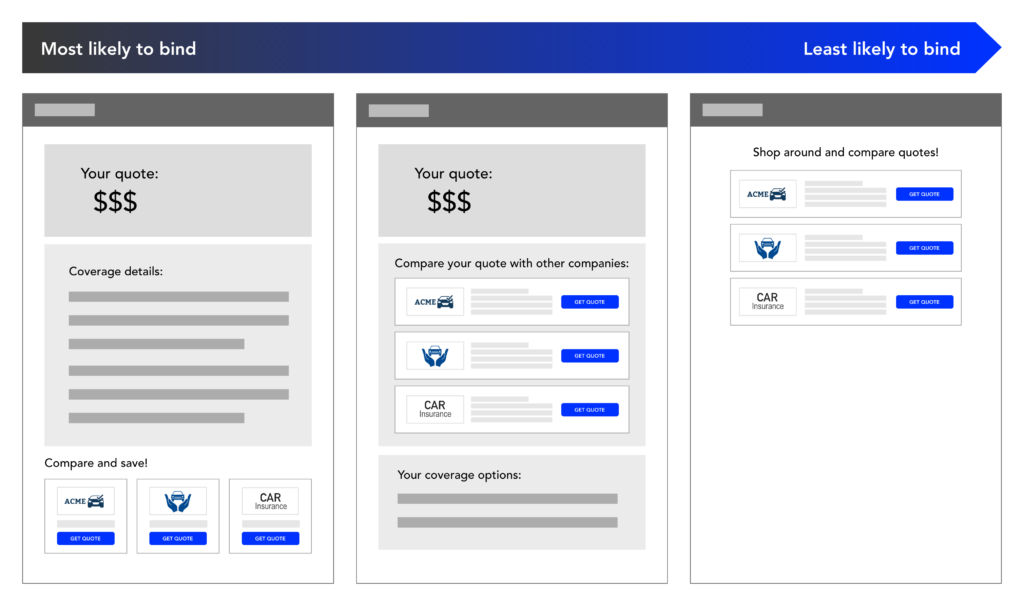 At a time when you're doing everything you can to maximize profitability, it doesn't make sense to leave money on the table by letting your non-served and highly unlikely customers leave your site without contributing to your bottom line. By monetizing these consumers correctly, you'll have new revenue to offset your marketing costs and support your profitability goals.
Looking for more help maximizing profitability in the hard market? Download our free Hard Market Playbook for insight into the metrics, technology tools, and customer acquisition strategies you need to weather the storm and optimize your performance. And of course, if you have any other questions, your MediaAlpha account manager is always available to help.