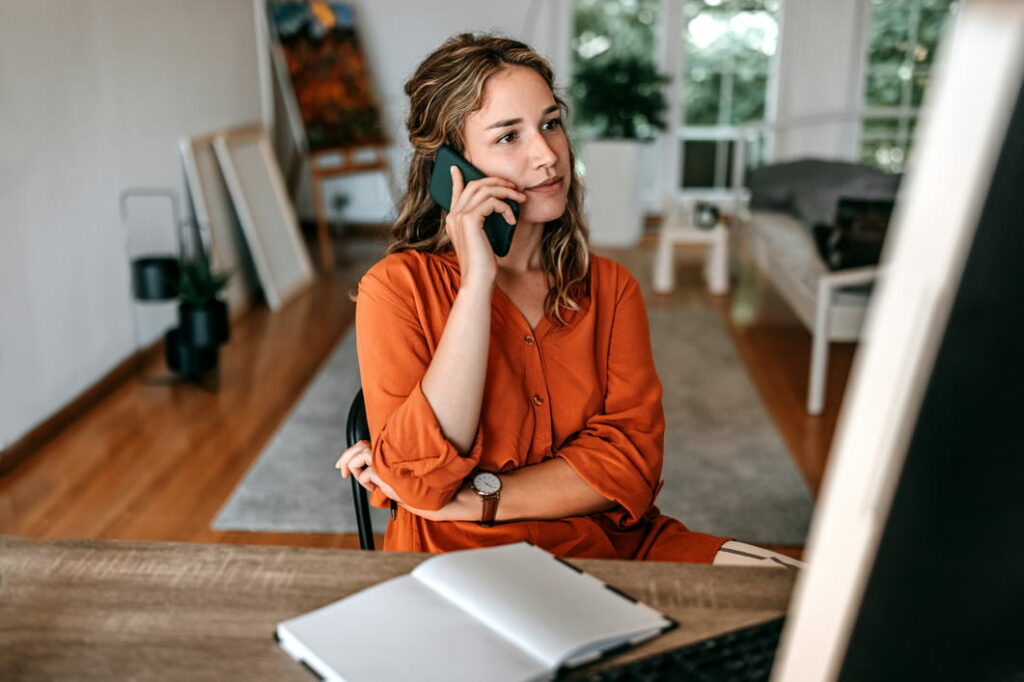 One of the biggest challenges for auto insurance agents lies in getting in-market shoppers to answer their phone calls. At a time when consumers are less likely than ever to answer unexpected calls, agents will often find themselves calling a consumer over and over without getting a response—even when they've implemented an intelligent strategy for buying high-quality leads.
When this happens, agents spend their hard-earned money on consumers they never get to speak with, and they waste valuable time that they could otherwise be using to connect with shoppers and build their businesses. Frustrating, to say the least.
But what if you could only pay for the leads you're actually able to connect with? Our cost-per-connection feature enables MediaAlpha for Agents clients to do just that. When you choose this option, you initiate a call to the consumer through our platform by simply pressing a button. If the consumer answers and you're able to talk to them, we'll charge you the price listed beside the consumer's details on our platform—and we'll send you the lead details after the call is complete. If you're not able to connect with the consumer, you'll never be charged. When you buy via cost-per-connection, you only pay for the conversations you're actually able to have.
You can find our cost-per-connection option on the Opportunities page of the MediaAlpha for Agents platform
The cost-per-connection option is available as part of our browse-and-buy feature, which is found on the Opportunities page of the MediaAlpha for Agents platform. There, you'll see a regularly updated list of fresh leads that you can filter and purchase à la carte. By clicking on a lead, you'll be able to see more information about the associated consumer, including their age, driving history, zip code, and the model of the car they're hoping to buy insurance for.
You'll then have the option to purchase the lead at one of two flat rates. The cost-per-lead option is one you're likely familiar with: you buy the lead, we send you the consumer's details and contact information, and then you can call it whenever you want on your own time. But our cost-per-connection option is the first of its kind.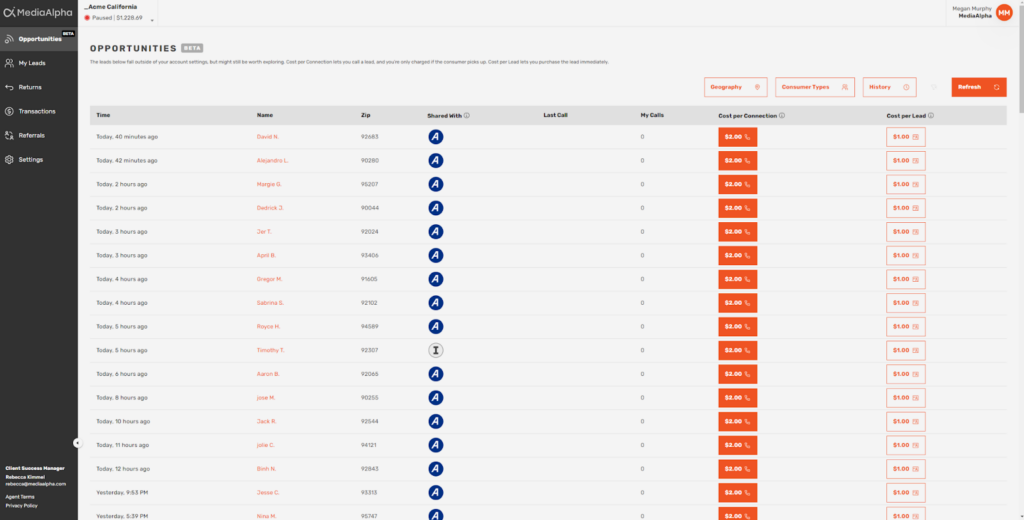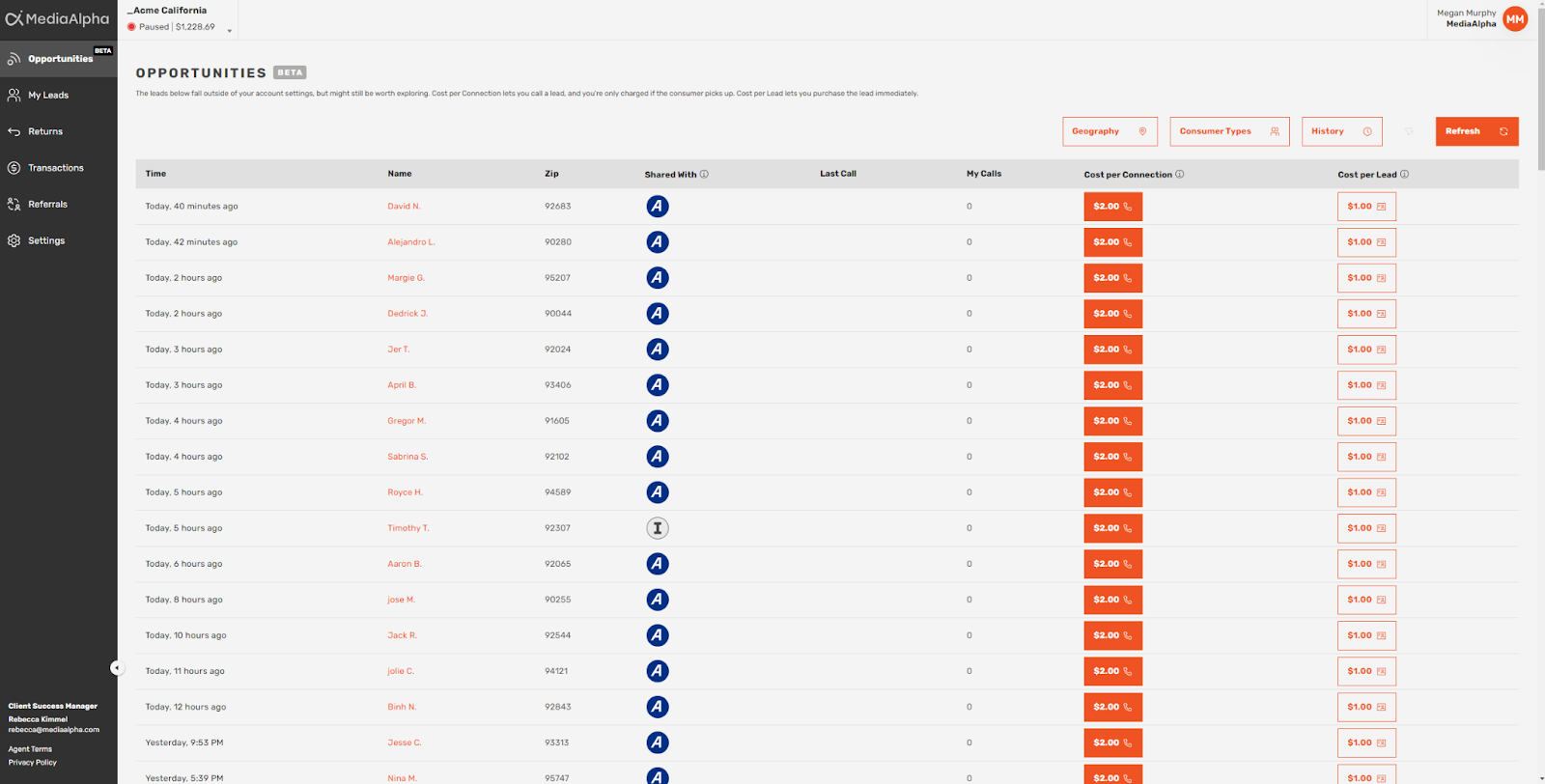 When you choose cost-per-connection, you'll dial the consumer through our system. If they pick up and you're able to have a conversation with them, you'll be charged the flat rate displayed on the Opportunities page, and you'll get the lead details so that you can follow up with them whenever you want. If you're not able to connect with the shopper, you won't be charged or receive the lead details.
Cost-per-connection guarantees that you get the conversation you paid for—at a fraction of what you'd pay for comparable options
Our cost-per-connection buying option ensures that you won't have to worry about spending money on leads that you're not able to connect with. So often, we hear from agents who feel that if they could just get someone on the phone, they'd be able to convert them. Now, you can use this feature to dial through in-market shoppers until you reach one who's available to speak with you—without having to worry about piling up costs from leads you can't connect with.
What's great about cost-per-connection is that it not only guarantees that your money will be spent on an actual conversation, but it does so at a fraction of the cost of comparable options. While a warm transfer might cost you $60, $70, or $80, you can buy a cost-per-connection lead at a far more affordable price.
Our cost-per-connection feature is just one of the ways we're helping insurance agents reach high-intent, in-market shoppers with greater transparency and efficiency than ever before. From our precise targeting and bidding controls to our best-in-class lead quality, we're pleased to give our clients everything they need to take their agency businesses to the next level.
And if you'd like to learn more about how to make the absolute most out of the industry's best leads, our Agent's Guide to Online Leads has the answers. This free guide offers deep insight into all of our best practices for identifying the right shoppers, working your leads to perfection, and driving new sales with maximum efficiency.
Want to talk more? Just reach out to your client success manager to schedule a meeting. Or, if you're not already a MediaAlpha for Agents client, visit our website to set up time to learn more about what we have to offer.