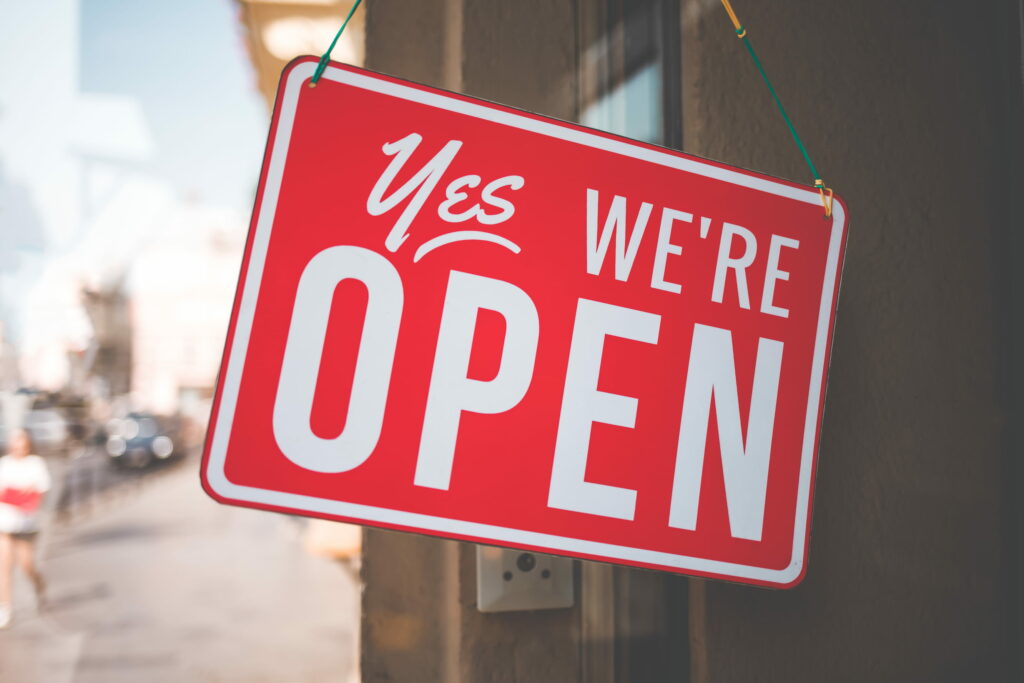 For small insurance agencies and one-person shops, flexibility and control are crucial when it comes to buying online insurance leads.
When you're a small business owner, each dollar you spend is a precious resource that comes directly out of your own pocket. This creates a major incentive to have the greatest possible control over when and how you spend your budget. If a lead you've bought comes in at a time when you're not available to work it, or if it belongs to a consumer who's not a fit for your business, that's money that could be better spent building your business elsewhere.
MediaAlpha's browse-and-buy feature is a perfect fit for small insurance agencies because it enables you to purchase the exact leads you want, right when you need them. After all, agents at small shops wear multiple hats, from sales rep, to customer service specialist, to marketer. If a lead you've bought in advance is generated while you're busy with one of your many tasks, the consumer you paid to reach will likely be contacted by rival agents before you have a chance to contact them. With browse-and-buy, you can cherry pick individual leads on demand—whenever you're available to work them.
Small insurance agencies are using browse-and-buy to experiment with the exact leads they want to buy
If you're unfamiliar, the browse-and-buy option is a first-of-its-kind feature that enables you to purchase leads à la carte from a continuously updated feed of recently generated leads. When you click on a lead, you're able to see the consumer's location, vehicle ownership history, driving and coverage record, and more—all before you decide whether to purchase the lead.
Each lead is available for purchase at one of two flat prices: cost-per-lead (in which you pay to receive the lead's contact information) and cost-per-connection (in which you press a button to place a call to the consumer through our system, and you only pay if you're able to have a conversation).
Here's what the feed looks like on the Opportunities page of the MediaAlpha for Agents platform: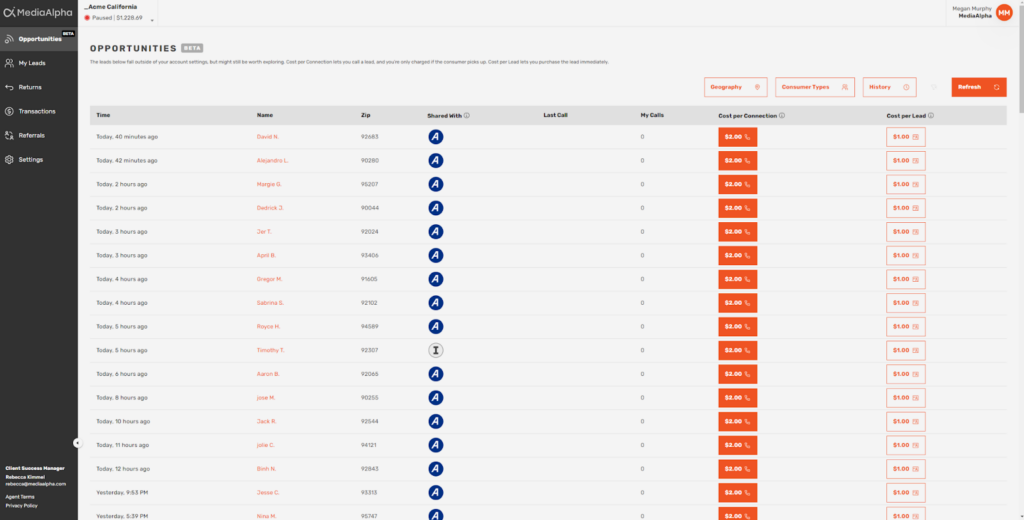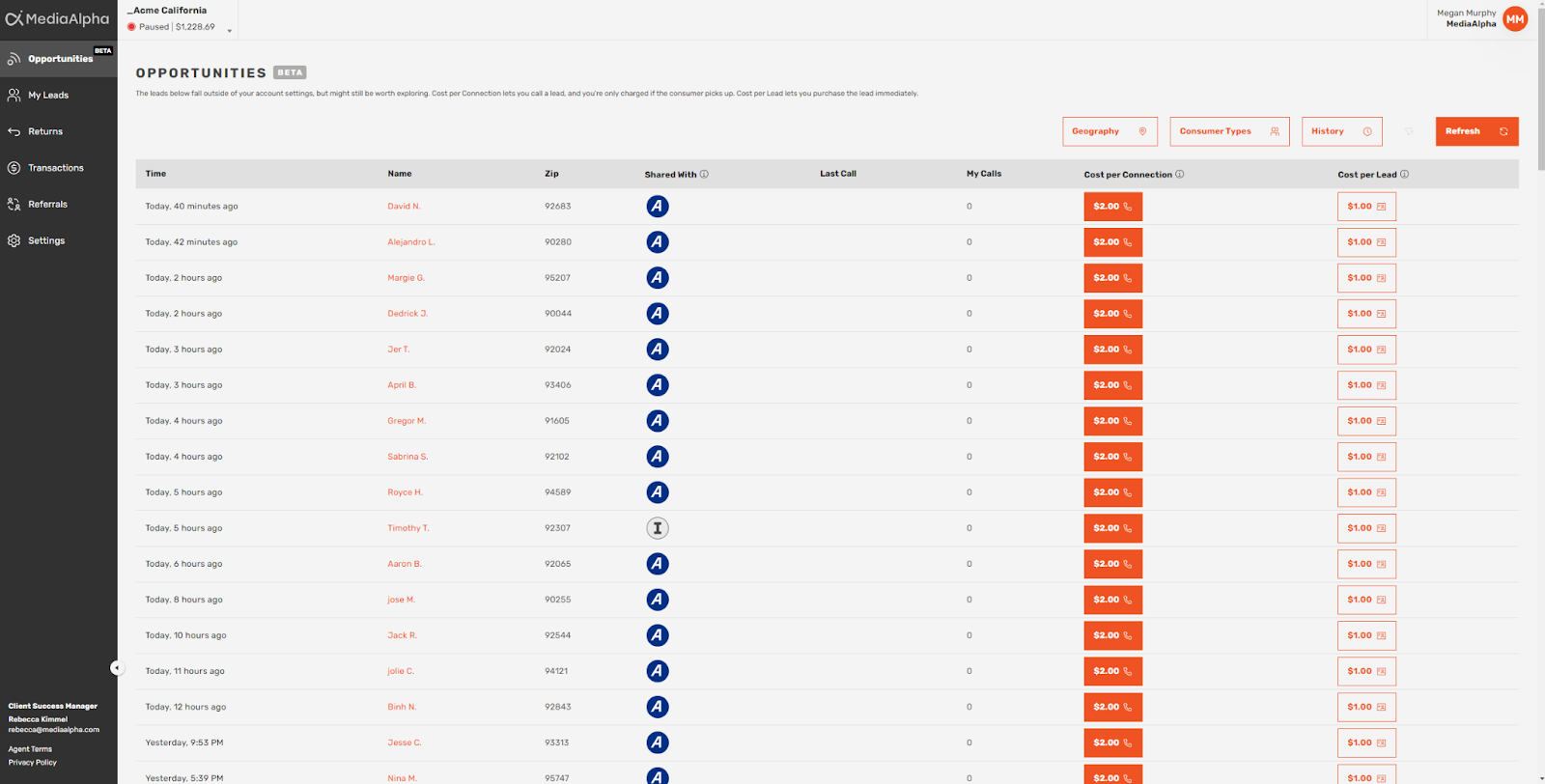 Many agents use browse-and-buy as a complement to MediaAlpha's automated delivery option, which enables you to set bids for specific groups of insurance shoppers and automatically receive leads as they're generated. In these cases, agents use the browse-and-buy feature to experiment with new kinds of consumers, on top of the ones they're bidding on via automated delivery. Other agents, particularly those with small insurance agencies, use browse-and-buy exclusively.
Whereas automated delivery enables larger agencies to get the volume they need to grow their businesses at scale, browse-and-buy empowers you to purchase the exact leads you want individually. This way, you can spend your budget carefully and experiment with different consumer types before investing more heavily in them.
As independent agent William Orr puts it, "What I like about the browse-and-buy option is that you can be pickier about what you want."
Agents are using browse-and-buy to receive leads on their own schedule
The other big benefit of browse-and-buy to small insurance agencies is that it allows you to buy leads only when you're available to work them.
Automated delivery enables you to choose what times of the day you receive leads in advance—but when you run a small operation, it can be difficult to predict your schedule on any given day. For instance, you might plan to work leads on a Thursday afternoon, but if a customer calls in with a service issue and you're the only one around to help them, you're not working leads at that time.
With browse-and-buy, you can buy and work fresh leads on-demand, whenever time opens up in your schedule. Have a half hour during your lunch break? It could be just the right time to scroll the Opportunities page for in-market shoppers who might be a fit for your business.
Looking for more advice about online leads for small insurance agencies? Our Agent's Guide to Online Leads is full of great tips for effective customer acquisition.
Whether you're using browse-and-buy to complement your automated delivery campaigns or as your exclusive lead-buying method, this feature is a powerful tool for small insurance agencies looking for more flexibility and control in their lead buying.
And if you want to learn more about generating new sales with online leads, our guide to lead-buying provides a range of best practices for choosing the right lead provider, targeting the right shoppers, and working your leads to perfection.
Meanwhile, our MediaAlpha for Agents client success managers are always available to answer any questions you might have. If you're not yet a MediaAlpha for Agents client, you can schedule a time to learn more about our platform from one of our agent lead specialists.