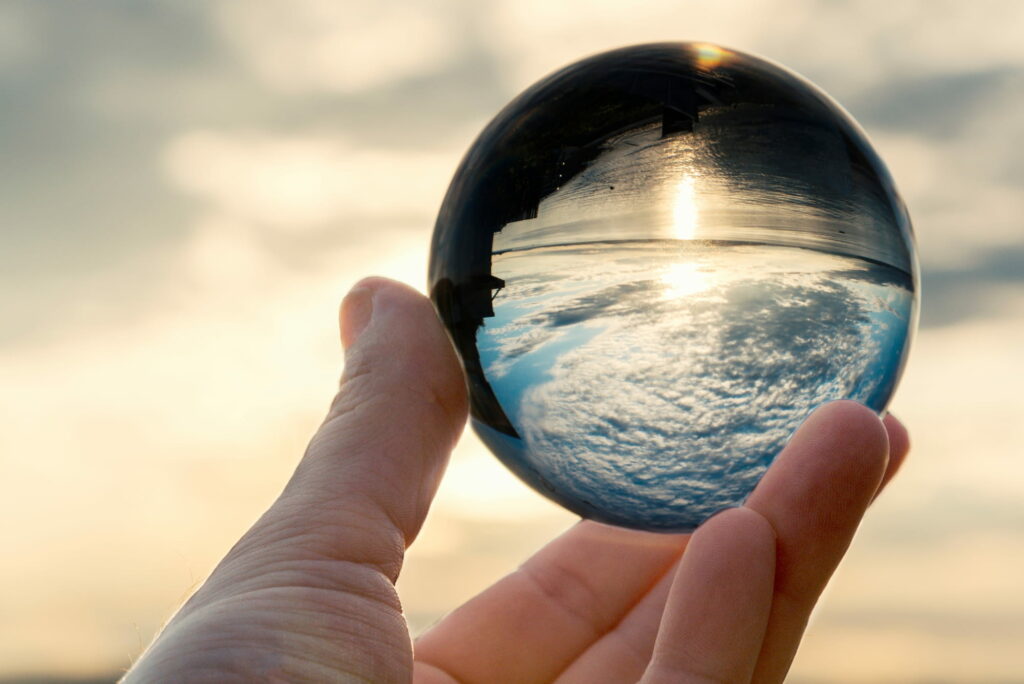 For those hoping to anticipate the future of Medicare customer acquisition, there's no better place to look than the world of property and casualty (P&C) insurance. Like Medicare today, P&C was for decades a space where carriers relied on a network of brokers and agents to sell their policies to consumers. And for years, even after the rise of the internet, very few carriers offered consumers the opportunity to purchase a policy from them directly via the internet.
But over time, leading P&C carriers responded to the growth of online shopping by giving consumers the ability to purchase policies on their websites. The carriers who were first to embrace this direct digital distribution became the clear market leaders in the digital space and rapidly gained share in the overall P&C market. Soon, other carriers followed, and the industry began moving toward more sophisticated digital customer acquisition operations—better metrics for optimizing performance and personalized shopping experiences designed to maximize the value of each website visitor.
As more and more consumers who are comfortable shopping online continue aging into Medicare, a similar shift is beginning to play out here. Looking forward, Medicare carriers must meet consumer demand for a multichannel shopping experience that enables consumers to enjoy the convenience of online shopping and the expertise of a knowledgeable broker. And they must do all this while implementing the metrics and technology tools that will allow them to acquire new customers with greater scale and efficiency than their competitors.
Here are three digital customer acquisition upgrades we expect to see in the evolving Medicare space, based on what we've seen in P&C:
3 key digital customer acquisition upgrades for Medicare carriers
1. Streamlined user experiences
While government regulations require Medicare carriers to be diligent when setting up their processes for online quoting and policy sales, the ones who get this right are already seeing results. By taking an extra step (or two!) out of the path to purchase, carriers that enable consumers to receive a quote or purchase a policy online typically see a meaningful increase in conversion rates. And as more carriers roll out this feature, others will have to follow suit to keep up with the seamless consumer experiences their competitors are offering.
After all, if a consumer is shopping on a health insurance site and ready to get a quote, it's best to give them what they're looking for. When carriers pause the shopping experience with a message asking them to call a representative to receive a quote or complete the transaction, they run the risk that the consumer will get distracted before making the call, or that they'll keep researching other providers on their computer or mobile device. That one little hiccup means lost conversions and lost revenue, and leading property and casualty insurers learned long ago to remove it from their digital operations for the shoppers who want to buy online.
Some Medicare carriers are driving conversion rates even higher by using a data passing integration to provide pre-filled forms that automatically transfer the information consumers have filled out on websites they visited earlier in their search for a policy. This makes the quoting process faster and easier for the consumer, thus making it more likely that they will enroll.
2. Deeper measurement with conversion tracking and customer lifetime value
In order to acquire customers more efficiently, Medicare carriers need deep insight into which kinds of consumers are driving conversions. This means having a way to connect their ad clicks to their policy sales. As an example, MediaAlpha's conversion tracking token reveals these key details by adding a string of encrypted letters and numbers onto the URL that consumers are directed to when they click on an ad. This enables carriers to match each ID to the consumer's corresponding identity inside the carrier's customer relationship management (CRM) platform—ensuring that even offline conversions are logged in the system.
Over the past decade, this kind of information has become table stakes in P&C. There, carriers rely on conversion tracking to determine which kinds of shoppers are most likely to buy from them and adjust their bidding strategies accordingly.
The most advanced of these brands have taken their measurement one step further by not only tracking which consumers purchase a policy, but how much those consumers are worth to their business over the course of the customer relationship. This helps these carriers optimize for a powerful metric known as lifetime value-to-customer acquisition costs (LTV-to-CAC), a ratio that compares the lifetime value of the consumer to the costs the carrier paid to acquire them. Slowly but surely, LTV-to-CAC has begun gaining a foothold among health and Medicare advertisers.
3. Superior website monetization with predictive analytics
The overwhelming majority of any carrier's site visitors won't wind up buying a policy, but cutting-edge P&C brands have found a way to earn valuable new revenue from them, anyway. When a website visitor is either unable or unlikely to purchase a policy from one of these carriers, the carrier can monetize the shopper by showing them alternative listings for other brands. When the consumer clicks, the carrier gets paid—sometimes more than $100 due to the value of these listings.
The future of Medicare customer acquisition will see carriers in the space doing the same. In some instances, you might have consumers who are ineligible to purchase a policy from you. Since you can't enroll them, you might as well earn new revenue by showing them listings for another carrier that can. In other cases, there are shoppers who are technically able to enroll with you, but who are highly unlikely to do so. If you have a predictive analytics algorithm that can determine a shopper's likelihood to buy a policy from you, you can show your least likely customers alternative listings beside your own quote.
Here's what these listings can look like: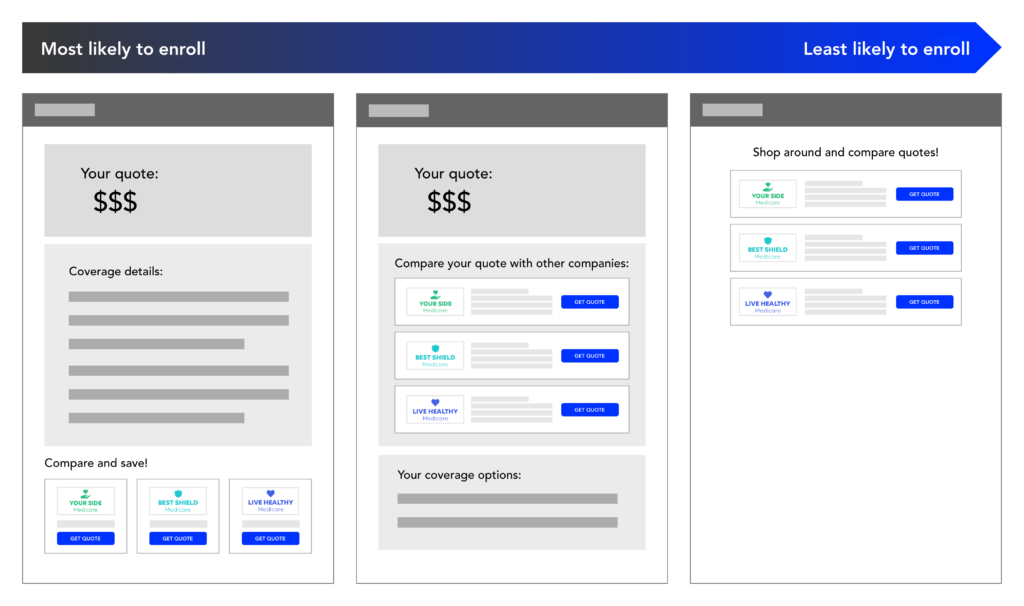 The future of Medicare customer acquisition will see carriers ready to acquire consumers everywhere they shop
As consumers who became comfortable with the internet in their 30s and 40s continue aging into senior citizen status, Medicare carriers will be working with shoppers who expect to be able to buy the things they need online. However, due to the complexity of our healthcare system, many of these shoppers will still want to know that a knowledgeable agent is just a phone call or instant message chat away.
The future of Medicare customer acquisition will require carriers to have a fully integrated gameplan to acquire shoppers efficiently across multiple channels. When you give consumers more options for purchasing a policy from you, you increase the likelihood that they'll enroll—however they decide to do so.